THE REALM OF GAS GIANTS - PART ONE - PART TWO - PART THREE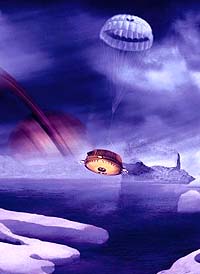 Exploring the outer solar system will take innovation and vast amounts of cash

Titan And Beyond
by Bruce Moomaw
Cameron Park - April 17, 2000 - This year's conference also saw a number of additional papers on other planetary moons.

S.E. Sandera and J. Ruiz suggested on theoretical grounds that Saturn's moon Titan and Neptune's moon Triton may have oceans of liquid water-ammonia mixture underneath their surface ice crusts -- as has also been suggested for Ganymede, Callisto, and even Pluto's moon Charon -- but even if they do, it seems unlikely that microbes could have evolved in such an environment (although Chyba's suggestion of a radiation-produced source of nutrient chemicals for microbes gives cause for caution on this question).

Kevin Zahnle pointed out that most of Sol's moons do not have a concentration of meteor craters on the hemispheres that point forward along the moon's orbital direction -- which one would expect if they had been cratered by asteroids and comets -- and that "many of these satellites have led, and may still be leading, interesting lives", perhaps involving long periods of non-synchronous rotation, or cratering by large amounts of other debris orbiting their parent planets.

A.S. Rivkin and T.L. Roush reported infrared spectra of the minerals on the surface of Mars' tiny moon Phobos -- taken both by ground-based telescopes and the TES instrument on Mars Global Surveyor -- which tentatively suggest that it may be made of ordinary silicate rock rather than carbonaceous chondrite rock, which in turn may suggest that Phobos and Deimos actually did form in orbit around Mars from leftover planetary material, rather than being independent asteroids that were captured by the planet later.

And T. Denk reported that a careful reexamination of Voyager's photos of Saturn's strange moon Iapetus -- which has a very dark-colored leading side and a light-colored trailing side -- suggests that, despite being 1500 km in diameter, it is surprisingly non-spherical, with a radius ranging from 713 to 767 km, which makes it "quite unusual in the Solar System".

He also says that the dark layer appears to be so thick that it could not be made of material blasted off Saturn's tiny outermost moon Phoebe (which is definitely a captured carbonaceous asteroid) -- and that it may instead be the remains of an ancient moon of Saturn between Iapetus and Phoebe that was shattered by an impact with an asteroid or still another moon, and then gradually sprinkled onto Iapetus' leading side.

In other areas, B. Hapke provided more evidence that the mystery of the origin of most meteorites -- which don't seem to match the mineral spectra of any asteroids -- can be explained by the "space weathering" of the surfaces of asteroids by the chemical effects of the solar wind on their surfaces over billions of years (with the meteorites being more recently broken off their parent bodies and thus having "fresher" surfaces).

G.J. Flynn calculated that there are currently 6 to 30 tons per year of organic compounds sprinkling down on the Earth from interplanetary dust each year -- and that, since the fall was much greater in the Solar System's early days, it may indeed have contributed a large part of the chemicals from which Earth life originally evolved.

And Andrea DeStefano reported the discovery in a 3.2 km deep South African gold mine of native bacteria that seem to thrive not only in that deep and hot environment, but even in local deposits of uranium in the mine -- indicating once again that life is much tougher than we thought even a decade ago, which raises hopes that it may indeed have evolved elsewhere in the Solar System.

But the most surprising proposal -- concerning our own Moon -- may have come from Paul G. Lucey, in his paper "Lunar Astrobiology", in which he stated that "the lunar poles may be an environment conducive to pre-biotic chemistry.

Production of organics... requires source material, energy, and proper environmental conditions. The lunar poles may have all three", in the form of hydrogen, nitrogen and carbon trapped from the solar wind over eons, cosmic rays and stellar ultraviolet light, and equable temperatures.

He certainly isn't suggesting that life could possibly have evolved in this super-limited environment -- any more than it did on the asteroids and comets, with their native organic compounds -- but he did suggest that studying this area may provide "a useful test for theories of organic formation."

This concludes my survey of the 31st Annual Lunar and Planetary Science Conference. While the overall proportion of genuinely riveting papers was perhaps a bit less than in the last few years, I hope I've shown that planetary research is alive and well despite the space program's recent troubles.

With any luck at all, the influx of data over the next few years will truly initiate the "Golden Age of planetary exploration".





Thanks for being here;
We need your help. The SpaceDaily news network continues to grow but revenues have never been harder to maintain.

With the rise of Ad Blockers, and Facebook - our traditional revenue sources via quality network advertising continues to decline. And unlike so many other news sites, we don't have a paywall - with those annoying usernames and passwords.

Our news coverage takes time and effort to publish 365 days a year.

If you find our news sites informative and useful then please consider becoming a regular supporter or for now make a one off contribution.


SpaceDaily Contributor
$5 Billed Once

credit card or paypal

SpaceDaily Monthly Supporter
$5 Billed Monthly

paypal only