THE MARTIAN CENTURY Part Two - Part Three


One of the most striking discoveries of the Mars Global Surveyor mission has been the identification of thousands of meters/feet of layers within the wall rock of the enormous Martian canyon system, Valles Marineris. Valles Marineris was first observed in 1972 by the Mariner 9 spacecraft, from which the troughs get their name. The Mars Orbiter Camera on board Mars Global Surveyor has been examining these layers at much higher resolution than was available previously. This image is also available in wallpaper ready version click to view.

Surveyor Blazes Path To Martian Century
by Bruce Moomaw
Cameron Park - March 15, 2000 - At this year's annual Lunar and Planetary Science Conference held in Houston Mars was once again a star attraction. Despite the embarrassing fiasco of the 1998 Mars probes, there is a flood of important new information coming in from Mars Global Surveyor, the one working Mars spacecraft.

The most interesting aspects of Mars remains the two big questions: was there ever life on it, and was there enough liquid water on the surface of ancient Mars that it was an environment in which Martian life could have evolved?

Lacking more than a very few Martian meteorites as samples, we still don't have much data on the question of life itself. But we have a steadily accumulating supply of data on the question of whether ancient Mars -- which we already know possessed a dense atmosphere of carbon dioxide -- was warm enough that it also had a significant supply of liquid water on or near its surface.

Unfortunately, that data is still too ambiguous to give us a really firm answer. In a few more years, we certainly will be able to answer the question of water -- but at this LPSC meeting, there has still been room for a great deal of scientific wrangling over just how clear the marks of ancient liquid water on Mars' surface really are.

First, there is the matter of the branching, dried-up "valley networks" scattered over Mars' surface. These were clearly carved by water running during a protracted period of time; but we aren't sure whether that water actually ran across the surface of Mars, or whether it trickled along more slowly just beneath a frozen ancient surface and gradually tunneled out underground channels that enlarged until their roofs finally fell in -- a process which is called "groundwater sapping", and which is surprisingly common here on Earth.

Up to now, the general feeling has been that the Martian valley networks look more as though they were carved by groundwater sapping. They seem to lack the fine networks of sources which rivers and streams carved by surface runoff have; instead, they often seem to commence abruptly at some point on the surface, as though their sources were underground springs where more deeply buried water was gushing outwards on to the surface.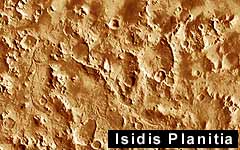 But this year's LPSC papers shows both sides have much to debate yet. Some authors take the optimistic view. James M. Moore, for example, says that in the Libya Mountains -- the rugged highlands just south of the Isidis Basin which was the favored landing area for the now canceled next U.S. Mars Surveyor Lander in 2001. Here, the local features provide clear evidence of surface runoff: "If groundwater was involved, it must have been locally derived (within a few km) and implies very high recharge rates from the surface (i.e., precipitation, either snow or rain).
"Groundwater sapping, either fed by a decaying regional groundwater system or by hydrothermal [hot spring] circulation, is an insufficient explanation for [the features seen]; recharge by precipitation and local runoff-groundwater throughflow must have occurred."
And Robert Strom describes Mars' Loire Valley as "the Grand Canyon of Mars": "Since the [geological characteristics] of the dissected Loire Vallis is so similar to the Grand Canyon, it is probable that water runoff (e.g., precipitation) was important in its formation."
Thanks for being here;
We need your help. The SpaceDaily news network continues to grow but revenues have never been harder to maintain.

With the rise of Ad Blockers, and Facebook - our traditional revenue sources via quality network advertising continues to decline. And unlike so many other news sites, we don't have a paywall - with those annoying usernames and passwords.

Our news coverage takes time and effort to publish 365 days a year.

If you find our news sites informative and useful then please consider becoming a regular supporter or for now make a one off contribution.


SpaceDaily Contributor
$5 Billed Once

credit card or paypal

SpaceDaily Monthly Supporter
$5 Billed Monthly

paypal only