THE REALM OF GAS GIANTS - PART ONE - PART TWO - PART THREE


The best of the Jupiter system is pictured in this collage of images acquired by the Voyager and Galileo spacecraft. Jupiter is the largest planet in our solar system. The four largest moons of Jupiter are know as the Galilean moons and are named Callisto, Ganymede, Europa, and Io. Inside the orbits of the Galilean moons are Thebe, Amalthea, Adrastea, and Metis. Photo and caption by Calvin Hamilton Copyright Planetscapes 2000.

Out Jupiter Way
by Bruce Moomaw
Cameron Park - April 17, 2000 - In my last piece reporting on last month's 31st Annual Lunar and Planetary Science Conference I described some of the multitude of papers released during the last two days of the meeting on the latest discoveries and speculations about Mars.

But while Mars was definitely the star of the Conferences's second half, there were some interesting papers on other Solar System targets, which will be the focus of this report.

There were two LPSC sessions devoted specifically to Jupiter's ice-covered moon Europa -- the one world in the Solar System besides Earth and Mars which is regarded as having a significant chance of having once harbored microbial life, and perhaps of still harboring it.

Given that the "Galileo" spacecraft has just completed a two-year extension of its mission that was mainly devoted to studying Europa, there were fewer surprising revelations than might be hoped -- but there were some.

The debate continues over whether Europa's ice surface hides a layer of liquid water -- an underground ocean -- dozens of kilometers deep between the ice and the moon's main rocky surface; a layer that would be kept melted by frictional heat generated by the warmth of Jupiter's tidal tuggings on Europa's icy shell and on the underlying rock.

Nonetheless "Galileo", during its four years at Jupiter, has accumulated overwhelming evidence that there is some kind of soft layer down there -- whether of water, icy slush or relatively warm and ductile ice -- over which its relatively thin surface crust of extremely cold and hard surface ice has slowly shifted, and out of which eruptions of material onto Europa's surface have regularly occurred during the moon's history.

Several LPSC speakers added to that evidence. A few hours before its close flyby of Io last November, Galileo flew within a few thousand kilometers of Europa and took the first really good pictures of the moon's Jupiter-facing side, which were shown at the Conference and described by Gregory Hoppa.

They clearly confirmed advance predictions as to what kind of surface features would be seen on them if Europa did have a soft or liquid underlying layer -- including the most spectacular examples yet of those strange Europan features known as "cycloidal ridges", which form long chains of repeated semicircular arcs stretching for hundreds of kilometers across the surface.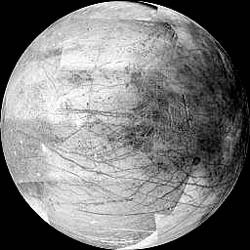 This 12-frame mosaic provides the highest resolution view ever obtained of the side of Jupiteršs moon Europa that faces the giant planet. It was obtained by the camera onboard NASA's Galileo spacecraft on November 25, 1999 during the spacecraft's 25th orbit of Jupiter.

The new images have resolutions of about 1 kilometer (0.6 miles) per picture element. Lower resolution context was provided by images acquired during earlier Galileo orbits. In the earlier images, the resolution is 7 and 13 kilometers (4 and 8 miles) per picture element, respectively.

Numerous linear features in the center of the mosaic and toward the poles may have formed in response to tides strong enough to fracture Europa's icy surface. Some of these features extend for over 1,500 kilometers (900 miles). Darker regions near the equator on the eastern (right) and western (left) limb may be vast areas of chaotic terrain. Bright white spots near the western limb are the ejecta blankets of young impact craters.

North is to the top of the picture and the sun illuminates the surface from the left. The image, centered at 0 latitude and 10 longitude, covers an area approximately 2,500 by 3,000 kilometers. The finest details that can discerned in this picture are about 2 kilometers across (about 1,550 by 1,860 miles). The images were taken by Galileo's camera on November 25, 1999 when the spacecraft was 94,000 kilometers (58,000 miles) from Europa.

Some of the new chains run over 1600 km, with individual arcs of 50 to 400 km length. On the basis of the similar ridges already known to exist on the side of Europa facing outward from Jupiter, Hoppa and Richard Greenberg had announced last fall that the cycloids are probably cracks produced in Europa's surface ice shell by repeated cycles of stresses produced in the ice layer by Jupiter's tidal pull.

The reason Europa has tides is that its orbit is not perfectly circular, so that the regular increase and decrease during each orbit in the force of the Jupiter-produced tides (and the way that the location of the tidal bulge simultaneously "rocks" back and forth across Europa's face during each orbit) sometimes forges cracks curving in just that rhythmically patterned way.

The additional cycloidal ridges turning up on Europa's Jupiter-facing side provide strong further support for their theory. And for Europa's outer ice shell to bulge tidally enough to produce such cracks -- about 30 meters -- there must be a layer of very soft and probably liquid material sloshing around underneath the ice layer. So their theory, as they say, "has constituted one of the strongest lines of evidence for a liquid ocean under the ice."

But the cycloids weren't their only prediction borne out by the new photos. A pattern of wedge-shaped bands near the center of Europa's Jupiter-facing side -- similar to a set of such wedges near the center of the other side -- also turned up exactly where Hoppa and Greenberg had predicted.

And that prediction was based on their belief that -- bizarrely -- although Europa's main rocky body (like that of most moons in the Solar System) keeps one face constantly toward its parent planet because of the latter's tidal tuggings, Europa's outer surface may not!





Thanks for being here;
We need your help. The SpaceDaily news network continues to grow but revenues have never been harder to maintain.

With the rise of Ad Blockers, and Facebook - our traditional revenue sources via quality network advertising continues to decline. And unlike so many other news sites, we don't have a paywall - with those annoying usernames and passwords.

Our news coverage takes time and effort to publish 365 days a year.

If you find our news sites informative and useful then please consider becoming a regular supporter or for now make a one off contribution.


SpaceDaily Contributor
$5 Billed Once

credit card or paypal

SpaceDaily Monthly Supporter
$5 Billed Monthly

paypal only