THE MARTIAN CENTURY Part One - Part Three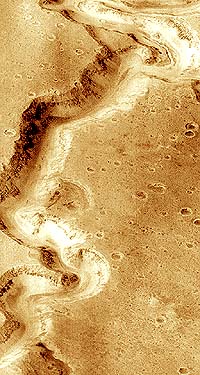 This picture of a canyon on the Martian surface was obtained a few minutes after 10 PM PST, January 8, 1998 by the Mars Orbiter Camera (MOC), during the 87th orbit around Mars of the Mars Global Surveyor spacecraft. It shows the canyon of Nanedi Vallis, one of the Martian valley systems cutting through cratered plains in the Xanthe Terra region of Mars. The picture covers an area 9.8 km by 18.5 km (6.1 mi by 11.5 mi), and features as small as 12 m (39 ft) can be seen. The canyon is about 2.5 km (1.6 mi) wide. Rocky outcrops are found along the upper canyon walls; weathered debris is found on the lower canyon slopes and along the canyon floor. The origin of this canyon is enigmatic: some features, such as terraces within the canyon (as seen near the top of the frame) and the small 200 m (660 ft) wide channel (also seen near the top of the frame) suggest continual fluid flow and downcutting. Other features, such as the lack of a contributing pattern of smaller channels on the surface surrounding the canyon, box-headed tributaries, and the size and tightness of the apparent meanders (as seen, for example, in the Viking image (A)), suggest formation by collapse. It is likely that both continual flow and collapse have been responsible for the canyon as it now appears. Further observations, especially in areas west of the present image, will be used to help separate the relative effects of these and other potential formation and modification processes.

Surveyor Blazes Path To Martian Century
by Bruce Moomaw
Cameron Park - March 15, 2000 - However, other geologists are more pessimistic. MGS' close-up photo of the Nanedi Valley has drawn great public attention because it clearly shows a smaller channel running along the bottom of the main water-carved valley -- indicating that water later ran along the surface of the valley floor, even if the initial valley had been carved by subsurface sapping.

But Michael Malin and Ken Edgett, in their study, conclude that "Inner channels within other valley networks are extremely rare... In over a thousand [MGS] images of networks, only one other valley [the Nirgal] shows an inner channel."

This suggests that prolonged surface water runoff on Mars, while it may have existed in a few places, was very uncommon -- but Malin and Edgett point out that MGS' photos also show that the valley networks have been highly eroded and largely filled up with dust and sand during the billions of years since Mars lost its surface water, which may obscure most evidence of surface runoff.

R.M. Williams and R.J. Phillips suggest that there may have been a mixture of the two processes: Mars "would transcend from an early warm phase to the current arid, cold conditions by a freeze-out which moves from pole to equator over a time-scale of a few hundred million years.

Thus, the oldest valley networks presumably would form due to surface runoff... As the surface temperature began to drop, the formation mechanism would transition first to water-lubricated sapping and finally to ice-lubricated sapping...

Thus the near-equatorial valley networks would continue forming due to [runoff] for a longer period of time than their polar valley network counterparts" -- which they say is in accord with the visible evidence, including the fact that many valley networks seem to share characteristics of the two formation processes.

And Pascal Lee makes still another suggestion: that the valley networks resemble northern Canadian channels formed by meltwater trickling along under glaciers. However, for Mars to have had glaciers -- which some authors (including G. Komatsu at the current Conference) have claimed also left recognizable gouges in some of Mars' mountains -- ancient Mars must have had snowfall.

In this topographic portrayal of Mars, above, the northern lowlands are occupied by an ocean (blue) whose shoreline is placed at the position of Contact 2, the line that Parker and co-workers interpreted as an ancient shoreline. Thus, this view shows Mars as it might have looked mid-way through its history according to the oceans hypothesis. The Tharsis region, with numerous very large shield volcanoes is seen in the central part of the globe. In the upper right, many channels flow into the northern lowlands at Chryse Planitia. Credit: MOLA Team. Rendering by Peter Neivert, Brown University.

More recently, a more spectacular concept of early Mars has been advanced by some researchers: the idea that it may have actually had a large ocean (the "Borealis Ocean") filling up the smooth-floored lowlands that cover most of its northern hemisphere.

Robert Strom and Victor Baker go further: they have proposed for some time that Mars, throughout its history, may have had volcanic outbreaks every few tens or hundreds of millions of years that have thawed enough frozen water and carbon dioxide in the soil to briefly restore its original dense atmosphere and northern ocean, even into fairly recent geological times. They repeated that theory at this conference.

Regardless of the truth of that, the Borealis Ocean (perhaps ice-covered) may at least have existed during Mars' ancient days, and several Conference speakers claimed additional evidence of that.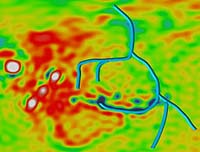 Evidence suggests that rapid heat flow in the Northern Hemisphere produced a wide lowland area there, encouraging the formation of channels, which could have sluiced water resources into a large basin, even an early ocean. These images show a network of channels draining from the giant Valles Marineris into the wide, flat area of the north. Other areas that show similar signs are The Chryse and Kasei Valles outflow regions. These channels yawn nearly 200 kilometers wide and run more than 1650 kilometers long.

A team led by David Smith stated that their analysis of the very detailed measurements of Mars' surface topography made by MGS' laser altimeter "has revealed intricate details of channels into the northern plains, particularly in the Chryse region, that represent strong evidence that at one time large quantities of water flowed into the northern plains, and that to do so would have required fluid depths to have been at least a kilometer in places."

And, as other speakers (such as M.A. Kreslavsky and J.B. Garvin) pointed out, the floors of Mars' northern lowlands have turned out to be astonishingly smooth, further suggesting that they may have been covered with a layer of ocean-floor sediment at one time.

Again, though, there are alternative theories: K.L. Tanaka and William Banerdt suggested that the apparent lack of shorelines of this "ocean", and some odd features of its seafloor altitude, indicate that it may have been an ocean not of water, but of sediment-rich mud.





Thanks for being here;
We need your help. The SpaceDaily news network continues to grow but revenues have never been harder to maintain.

With the rise of Ad Blockers, and Facebook - our traditional revenue sources via quality network advertising continues to decline. And unlike so many other news sites, we don't have a paywall - with those annoying usernames and passwords.

Our news coverage takes time and effort to publish 365 days a year.

If you find our news sites informative and useful then please consider becoming a regular supporter or for now make a one off contribution.


SpaceDaily Contributor
$5 Billed Once

credit card or paypal

SpaceDaily Monthly Supporter
$5 Billed Monthly

paypal only