THE MARTIAN CENTURY Part One - Part Two


Images from the Mars Global Surveyor (MGS) Mars Orbiter Camera (MOC) dramatically illustrate that many places on the red planet have outcrops of layered geologic materials. The two pictures above show the remains of layered material inside craters in southwestern Utopia Planitia (see inset for detailed view). These remnant layers indicate that the craters--and perhaps the plains that surround them--were once buried beneath a deposit that has since been eroded away. This theme of layered outcrops and exhumed craters appears to be one of the dominant observations that MGS MOC has made--to date--about Mars. The origin and composition of the layered material--and its ultimate fate once it was largely eroded away--are unknown.

Surveyor Blazes Path To Martian Century
by Bruce Moomaw
Cameron Park - March 15, 2000 - Finally, even if there was never a Martian ocean, there may have been early Martian lakes -- perhaps ice-covered for most of their history. Quite a few Martian craters seem to have had local valley networks drain into them; some of these are likely to serve as landing sites for Mars sample-return missions in the near future.

Kathryn Fishbaugh, H. Hiesinger and G.E. McGill suggested at the Conference that two basins hundreds of kilometers across -- the Prometheus Basin and the Utopia Plain -- may have served as giant versions of such lakes.

C.M. Weitz repeated earlier suggestions that the odd-looking layered deposits that cover the bottom of some parts of the giant Marineris Valley may be lakefloor sediments -- and R.A. Beyer said that some other strange, swirling features on the Valley's floors look tantalizingly like ancient salt domes.

And Nathalie Cabrol and Robert Haberle said that they had seen intriguing signs that some lakes may have endured into recent geological ages, "with some of the most recent lakes (the Ares Group) being constrained between only 400 to 200 million years [in age]" -- long after standard theories say that Mars lost most of its surface air and froze.

If true, this would seem to support Baker's theory of occasional periods in which Mars becomes briefly hospitable again, although Cabrol and Haberle point out that it might also be due to outbursts of water thawed out by brief local volcanic episodes.

Not to be outdone, Tanaka and M.G. Chapman proposed that almost all of Mars' water-carved features -- including Tanaka's "mud ocean" -- may have been due to outflows of subsurface ice water thawed by volcanic eruptions.

What all this apparently boils down is that we still don't know just how much surface liquid water (perhaps covered by a thin layer of ice) ancient Mars had, and thus how hospitable it might have been for the evolution of life.

But, again, there is no doubt that we now have a lot more evidence to judge with than we had just a few years ago -- and, with any luck, within three or four years we will have a definite answer to the question.

In the meantime, though, one remarkable new theory about Mars came to the front in several LPSC papers: the possibility that the planet may be a kind of giant Fizzie!

The Valles Marineris trough system is more than 4,000 kilometers (2500 miles) in length. One of the most striking discoveries of the Mars Global Surveyor mission has been the identification of thousands of meters/feet of layers within the wall rock of the enormous Martian canyon system, Valles Marineris. Valles Marineris was first observed in 1972 by the Mariner 9 spacecraft, from which the troughs get their name: Valles--valleys, Marineris--Mariner. Some hints of layering in both the canyon walls and within some deposits on the canyon floors were seen in Mariner 9 and Viking orbiter images from the 1970s. The Mars Orbiter Camera on board Mars Global Surveyor has been examining these layers at much higher resolution than was available previously.

Mars is sprinkled with an entirely different type of water-carved feature: the "catastrophic outburst channels", which were carved by brief but gigantic eruptions of subsurface liquid water which lasted for only a few days, but were literally hundreds of times bigger than the biggest floods for which we have any evidence of on Earth.

These constitute perhaps the biggest geological mystery about Mars: where did such a seemingly dry planet come up with such huge outbursts of water, even up to 2 billion years ago - long after Mars had lost most of its air and frozen over?

Jeffrey Kargel suggested that the Martian subsurface, below the kilometer-thick permafrost layer that most scientists think it now possesses, may also contain a lot of carbon dioxide mixed with the water ice to form a "clathrate" -- and when heated by an episode of geothermal warmth, this may boil back into gas with tremendous force, cracking the thick permafrost to create a gigantic fountain of seltzer!

M.D. Max proposed that this subsurface CO2 may have been augmented by pockets of methane hydrate. And Baker and Strom proposed that this could be the mechanism behind their hypothesized occasional planet-wide eruptions of water and carbon dioxide which, they believe, may make Mars briefly hospitable again, although for only a few tens of thousands of years before the planet turns frozen and airless again for tens -- or hundreds -- of millions of years.

In short, the LPSC talks have made it clear that Mars may still have some astonishing surprises to offer us in the near future -- and the Conference is only half over.

But Mars was not the only subject of the Conference -- and in Part Two of this report, I'll review some of the papers covering other planetary targets.

31st Lunar and Planetary Science Conference

EARTH INVADES MARS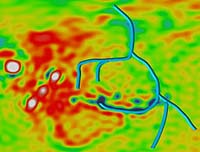 Mars Gravity Map Reveals Ancient Water Channels
Greenbelt - March 9, 2000 - Some of Mars' best kept secrets, long buried beneath the surface of the red planet, were recently revealed by instruments on NASA's Mars Global Surveyor spacecraft.
Thanks for being here;
We need your help. The SpaceDaily news network continues to grow but revenues have never been harder to maintain.

With the rise of Ad Blockers, and Facebook - our traditional revenue sources via quality network advertising continues to decline. And unlike so many other news sites, we don't have a paywall - with those annoying usernames and passwords.

Our news coverage takes time and effort to publish 365 days a year.

If you find our news sites informative and useful then please consider becoming a regular supporter or for now make a one off contribution.


SpaceDaily Contributor
$5 Billed Once

credit card or paypal

SpaceDaily Monthly Supporter
$5 Billed Monthly

paypal only