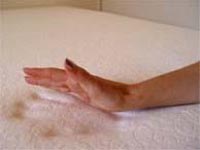 Tempur-Pedic Mattress Comparison & Memory Foam Mattress Review

..
NASA Light Technology Helps Cancer Patients
A NASA technology originally developed for plant growth experiments on space shuttle missions has successfully reduced the painful side effects resulting from chemotherapy and radiation treatment in ... more

..
The Astrobiology Of Cancer
Despite decades of research and billions of dollars, cancer remains a major killer, with an uncanny ability to evade both the body's defenses and medical intervention. Now an Arizona State Universit ... more

..
Long-Distance Ultrasound Exams Controlled By Joystick
Ultrasound is an extremely useful medical technique, provided the operator has the expertise. In small clinics, however - and still more on spacecraft - trained radiologists are rare. So ESA i ... more

..
Putting The Squeeze On Fat Cells
From fad diets to exercise programs, Americans continue to fight the battle of the bulge. Now they'll have help from recent Tel Aviv University research that has developed a new method to look at ho ... more

..
Space Travel Is Bad On The Bones
Long-duration spaceflight may have a long-term negative impact on bone health, according to research presented this week at the American College of Rheumatology Annual Scientific Meeting in Atlanta. ... more

..
Let Me Hear Your Heart Beat
What if monitoring your heart rate were as easy as listening to music while you jog? Thanks to advances in space technology, an iPhone will soon be able to do double duty: keep you in tune with your ... more

..
Dentists Get Help From Space
Dentists and their patients will soon benefit from a tiny new high-resolution X-ray camera. A Swedish company has adapted an advanced technique used for miniaturising space hardware to make a visit ... more

..
ESA Emergency Telemedicine System Soars To Commercial Success
'Is there a doctor on the plane?' Piping this request over aircraft speakers is the traditional response to a potential onboard medical emergency. But now the availability of expert medical advice c ... more