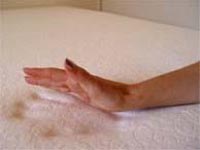 Tempur-Pedic Mattress Comparison & Memory Foam Mattress Review

..
Sounding rocket EVE supporting tune-up of SDO EVE instrument
Satellites provide data daily on our own planet, our sun and the universe around us. The instruments on these spacecraft are constantly bombarded with solar particles and intense light, not to menti ... more

..
The Sun's hidden magnetic field during grand minimum
Gottingen, Germany (SPX) May 23, 2016 The Sun has an 11-year cycle that involves, among other things, the occurrence and disappearance of sunspots as well as strong changes in the global magnetic f ... more

..
MMS Puts Magnetic Reconnection Under the Microscope
A team led by Southwest Research Institute (SwRI) has made the first direct detection of the source of magnetic reconnection. Analyzing data from NASA's Magnetospheric Multiscale (MMS) mission, scie ... more

..
What sparks one of the most explosive processes in the universe
Scientists are making new discoveries about a process that causes some of the most explosive events in the universe. At the same time, they are answering questions about Earth's magnetosphere - the ... more

..
NASA directly observes fundamental process of nature for 1st time
Like sending sensors up into a hurricane, NASA has flown four spacecraft through an invisible maelstrom in space, called magnetic reconnection. Magnetic reconnection is one of the prime drivers of s ... more

..
Spacecraft fly through magnetic phenomenon to understand space weather
For the first time, spacecraft have flown through the heart of a magnetic process that controls Earth's space weather and geomagnetic storms. The Earth is surrounded by a magnetic bubble, called the ... more

..
Swept Up in the Solar Wind
From our vantage point on the ground, the sun seems like a still ball of light, but in reality, it teems with activity. Eruptions called solar flares and coronal mass ejections explode in the sun's ... more

..
Sun's magnetic field during the grand minimum is in fact at its maximum
The study of the Sun's long-term variation over a millennium by means of super computer modelling showed that during a time period of the Maunder Minimum type, the magnetic field may hide at the bot ... more