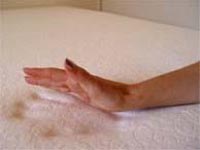 Tempur-Pedic Mattress Comparison & Memory Foam Mattress Review

..
Space weather model simulates solar storms from nowhere
Greenbelt MD (SPX) May 09, 2017 Our ever-changing sun continuously shoots solar material into space. The grandest such events are massive clouds that erupt from the sun, called coronal mass ejectio ... more

..
NASA-funded sounding rocket will take 1,500 images of sun in 5 minutes
On May 5, 2017, scientists will launch a sounding rocket 200 miles up into the atmosphere, where in just five minutes, it will take 1,500 images of the sun. The NASA-funded RAISE mission is designed ... more

..
RAISE Spectrograph to Help Answer Some of the Mysteries of the Sun
A sounding rocket originally developed as a prototype for NASA's next generation of space-based solar spectrographs will make its third flight tomorrow, May 5, at 12:25 p.m. MDT from White Sands, N. ... more

..
Sun's Eruptions Might All Have Same Trigger
Large and small scale solar eruptions might all be triggered by a single process, according to new research that leads to better understanding of the Sun's activity. Researchers at Durham University ... more

..
Interdisciplinary studies reveal relationship between solar activity and climate change
The solar flux is considered the fundamental energy source of earth's climate system on long time scales. In recent decades, some studies have noted that the tiny variations in solar activity could ... more

..
NASA and Partners Survey Space Weather Science
NASA has long been a leader in understanding the science of space weather, including research into the potential for induced electrical currents to disrupt our power systems. Last year, NASA scienti ... more

..
Hawaii-built Infrared Instrument for World's Largest Solar Telescope Catches its First Rays
The Daniel K. Inouye Solar Telescope (DKIST), currently under construction on Haleakala, Maui, is expected to start observing the Sun in 2020. When it does, it will rely on two complex infrared inst ... more

..
Charting the skies of history
Ice cores and ancient sediments can be gleaned for clues to weather and climate in the past. But astronomical phenomena - such as solar flares or auroras - at best leave only faint environmental tra ... more