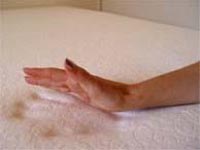 Tempur-Pedic Mattress Comparison & Memory Foam Mattress Review

..
Scientists unveil Japan's largest complete dinosaur skeleton
Scientists in Japan have discovered the island nation's largest complete dinosaur skeleton. The record-breaking, 72-million-year-old fossils were unearthed on Japan's northern island of Hokkaido. ... more

..
Scientists unearth world's oldest mushroom fossil
Some paleontologists look for dinosaur bones. Others look for mushrooms. And one of those fungus hunters, a paleontologist from the University of Illinois, has discovered the oldest fossil mushroom in the world. ... more

..
How methane-making microbes kept the early Earth warm
For much of its first two billion years, Earth was a very different place: oxygen was scarce, microbial life ruled, and the sun was significantly dimmer than it is today. Yet the rock record shows t ... more

..
Paleobiologists make intriguing new discoveries about dinosaur ancestors
Dinosaurs emerged in Triassic, a geological period of the Mesozoic era which started 252 Mya. It was then when archosaurs split into two evolutionary branches - bird-like and crocodile-like. D ... more

..
Just how old are animals
The origin of animals was one of the most important events in the history of Earth. Beautifully preserved fossil embryos suggest that our oldest ancestors might have existed a little more than half ... more

..
New insights into the ancestors of all complex life
A team of scientists led by the University of Bristol has provided new insights into the origins of the Archaea, the group of simple cellular organisms that are the ancestors of all complex life. Th ... more

..
Genetic analysis of New World birds confirms untested evolutionary assumption
Biologists have always been fascinated by the diversity and changeability of life on Earth and have attempted to answer a fundamental question: How do new species originate? An implicit assump ... more

..
New species of bus-sized fossil marine reptile unearthed in Russia
A new species of a fossil pliosaur (large predatory marine reptile from the 'age of dinosaur') has been found in Russia and profoundly change how we understand the evolution of the group, says an in ... more