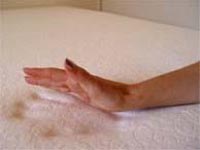 Tempur-Pedic Mattress Comparison & Memory Foam Mattress Review

..
Long-ignored ichthyosaur determined to be new species
Fresh analysis of a long-ignored ichthyosaur - relegated to museum storage closets for decades - revealed the fossil specimens to represent a new species. ... more

..
New evidence that Siberian volcanic eruptions caused extinction 250 million years ago
A team of scientists has found new evidence that the Great Permian Extinction, which occurred approximately 250 million years ago, was caused by massive volcanic eruptions that led to significant en ... more

..
Evidence suggests life on Earth started after meteorites splashed into warm little ponds
Life on Earth began somewhere between 3.7 and 4.5 billion years ago, after meteorites splashed down and leached essential elements into warm little ponds, say scientists at McMaster University and t ... more

..
Crocodile fossils suggest giant reptiles emerged earlier than previously thought
Scientists have identified the remains of a prehistoric crocodile species. Their discovery suggests early aquatic reptiles first emerged during the Middle Jurassic, a few million years earlier than previously thought. ... more

..
UTA study sheds new light on evolution
Research from the University of Texas at Arlington and the Wadia Institute of Himalayan Geology suggests that hydrogen, oxygen, water and carbon dioxide are being generated in the earth's mantle hun ... more

..
The volatile processes that shaped the Earth
Oxford University scientists have shed new light on how the Earth was first formed. Based on observations of newly-forming stars, scientists know that the solar system began as a disc of dust and ga ... more

..
Study: 3.95 billion-year-old rocks contain earliest traces of life
A team of Japanese researchers believe they've discovered the oldest known evidence of life on Earth. The scientists found signs of biological activity in 3.95 billion-year-old rocks from Labrador in northeast Canada. ... more

..
Early trilobites had stomachs, new fossil study finds
Exceptionally preserved trilobite fossils from China, dating back to more than 500 million years ago, have revealed new insights into the extinct marine animal's digestive system. Published in the j ... more