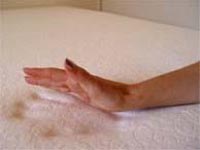 Tempur-Pedic Mattress Comparison & Memory Foam Mattress Review

..
Sections of retinas regenerated and visual function increased with stem cells from skin
Scientists from Schepens Eye Research Institute are the first to regenerate large areas of damaged retinas and improve visual function using IPS cells (induced pluripotent stem cells) derived from s ... more

..
Human lung stem cell discovered
For the first time, researchers at Brigham and Women's Hospital (BWH) have identified a human lung stem cell that is self-renewing and capable of forming and integrating multiple biological structur ... more

..
Reprogrammed Stem Cells Hit A Roadblock
It's a discordant note in the symphony of good news that usually accompanies stem cell research announcements. Stem cells hold enormous promise in regenerative medicine, thanks to their ability to r ... more

..
Cloning might create live woolly mammoth
The extinct woolly mammoth could be brought back to life in as little as four years thanks to a breakthrough in cloning technology, a Japanese researcher says. ... more

..
Stem Cell Discovery Could Lead To Improved Bone Marrow Transplants
Researchers at the University of California, Santa Cruz, have identified a key molecule for establishing blood stem cells in their niche within the bone marrow. The findings, reported in the January ... more

..
US scientists create mice from two fathers
US scientists have used stem cell technology to create mice from two fathers, an advance that they say could help preserve endangered species and even help same-sex couples have their own genetic children one day. ... more

..
Second stem cell trial approved by FDA
The second clinical trial using human embryonic stem cells has been approved by the U.S. Food and Drug Administration, the company conducting the trial said. ... more

..
Tests Show Bright Future For Gadonanotubes In Stem Cell Tracking
Gadonanotubes (GNTs) developed at Rice University are beginning to show positive results in a study funded by a federal stimulus grant through the National Institutes of Health (NIH) last year. ... more