Reporting on the latest space industry new has enabled myself, as well as the rest of the Space Daily staff, to witness some of the greatest technological advancements in the space industry. However, one of our most fond advancements has been the one we get to enjoy personally on a daily basis since all the way back in 2008 (time sure flies!)...the creation of NASA's space age visco-elastic (also known as memory foam) used so widely in the bedding industry. In case you might not already know, the leading company who produces visco-elastic foam mattresses is Tempur-Pedic®. They were the first to market NASA's technology in the 1980s and the Tempurpedic mattress line has increased in market share steadily since. Over the last few years there has been an explosion in the bedding industry with many other mattress companies bringing their own visco-elastic foam mattresses to the market place.
However, it is unclear how many of these mattresses really offer a similar feel and quality that the Tempur-Pedic® brand image has been able to spring board off of. The feeling I am referring to, in case you have been living on Mars and haven't tried one out yet, is the sensation of your total body being supported as if the mattresses was being molded around you, only to have it slowly come back to shape after you roll over.
To be fair, not every person has felt that visco-elastic space age foam mattresses are the best choice, citing that they can often get too hot because of the lack of breathability that occurs with the very dense visco-elastic foam.
That is why we were excited to test out a new patented visco-elastic memory foam mattress called the Tempflow®, which claimed to offer an optional ventilation system to keep you cooler, while comparing in feel, support and comfort to the Tempur-Pedic brand.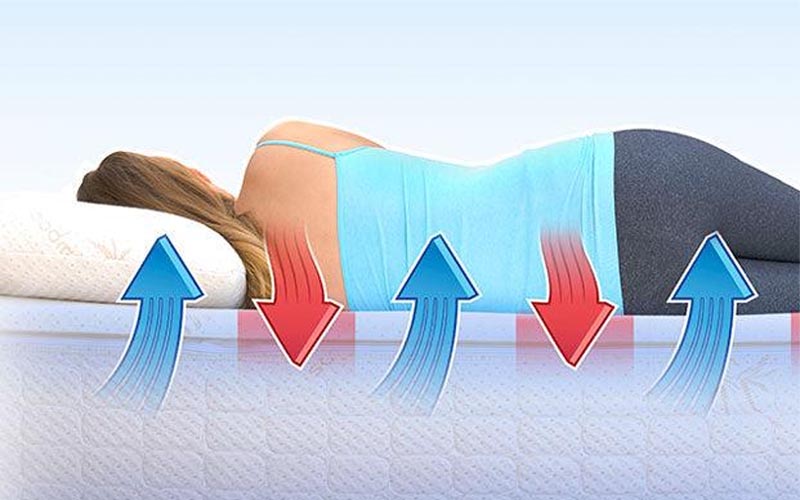 The Tempflow® uses a patent pending technology that allows body heat to ventilate out the mattress, while cooler air can flow back into the mattress. See www.Tempflow.com for more information about how their technology works.
They did so by offering a design that uses many small ventilated holes that travel through the surface of the memory foam and exit through the convoluted airflow channel middle layer. While the patent pending design of the Tempflow® looked impressive, we wanted to take it one step further and actually compare side by side this new mattress to the TempurPedic mattress model that they believed it most directly compared to. They chose the Deluxe bed by Tempur-Pedic, so we ordered one of each for comparison testing purposes (the Deluxe bed had been renamed as the Tempur-Contour Signature since our original purchase and now it would seem that the Deluxe is closest to the Tempur Pro Adapt firm in feel, but the overall design is basically the same) and the Tempflow mattress that matches similar specs. is the Tempflow EliteContour mattress.
Upon inspection of the two mattresses, we noticed that the covers both seemed to be made of a stretchable material (since the time of this first article, Tempflow is offering an upgraded bamboo Kool-Flow® kinit stretch cover and the Tempurpedic mattress below is currently using a Multi-Fiber knit cover). Both the previous and the newer models use approximately 4 inches of two different viscoelastic memory foam densities.

Tempflow® (left) and Tempur-Pedic®) Deluxe Bed (Updated to the Tempur-ProAdapt) (right) both use socking material for fire resistance. The socking material is thin enough to allow the foam to conform around the body with the foam underneath it.
With the Tempur-Pedic when I pushed on the surface foam for each mattress, I was able to feel air come out the sides of both mattresses at the convoluted side portions. However, I have the Tempflow with the now optional patented ventilation technology and I was able to also feel air come out the top through the many small holes in the visco-elastic foam on the surface, where as I could not feel any air come through the Tempur-Pedic visco-elastic foam surface. Then came the most important test of all, the direct comparison of lying on both mattresses and testing the pressure comfort, feeling of proper support, and temperature comfort.

This original comparison of both the Tempur-Pedic and Tempflow mattress shows that they both use true NASA viscoelastic memory foam that holds its hand print and therefore is the same stuff that NASA uses to combat g-forces against your body when astronauts travel to space.
After going back and forth from one mattress to another several times, I have to admit that I did not discern much difference in the memory foam sensation and overall mattress feel between the two mattresses. I also had several staff members perform the same test. The best that I, as well as the other Space Daily staff members could come up with, is that the Tempflow® may start off feeling a bit softer initially, but both seemed to feel the same after lying on them for several minutes.
At that time I did not feel that I could make a decision about which one kept my body temperature cooler, as I knew that from my past experience that it may take several hours on a mattress to determine how hot it can get. So I did just that. After splitting a night's sleep on both mattresses, I was able to verify that the Tempflow did indeed keep my body cooler overall. It is also a consensus from the other Space Daily staff members who have since slept on the two mattresses, that Tempflow does indeed live up to its claim of being able keep the body cooler. Since the time of my first review for the Tempflow mattress, they have come out with three models and are now using what they call their Biogreen® memory foam.
Update On Both Tempur-Pedic and Tempflow Mattress
Models as of 2022 One of their models, called was called the Eros, now closest their Tempflow EliteContour, uses this new Biogreen visco-elastic foam that feels just a touch softer than what was their Tempur-pedic Deluxebed® (updated to the Tempur Pro Adapt), but we have since visited mattress stores and here is what we can share with you. Both companies now have many different models with different firmnesses. They both now have hybrid crossover mattresses that feel more springy and soft from the get go, instead of that slower, contouring memory foam feel. Tempur-Pedic's ProAdapt may be their most popular, but they now have their own cooling designs that use a gel phase type of technology they call their Tempur Breeze ProAdapt and Luxe to make them feel more cool from the onset, though it is not clear how long that cooling will last throughout the night. Tempflow has matched just as many models as Tempur-Pedic and continues to offer their far more breathable patented Airflow Transfer System as an option for certain models, but standard on their similar to the Tempur Breeze models called the Tempflow Glacier Elite and Supreme. It would seem that you now have a plethora of choices with both brands for both comfort and support.
With so much green washing these days, it was nice to learn that the Tempflow is now GreenGuard Gold Certified. They attribute being able to pass the most strict testing criteria in the industry due to their proprietary Biogreen memory foam, which has also been separately independently tested by the same laboratory that heads up GreenGuard's certification testing (see GreenGuard.org). UL laboratories tested the Biogreen memory foam for total V.O.C.s (Volatile Organic Compounds), which account for much of that initial smell that many people complain of when they first get a new mattress. In addition, the Biogreen foam was analyzed for many specific chemical emissions, such as phthalates, benzene, styrene, formaldehyde and many other dangerous substances.
The results were that the Biogreen memory foam was shown to have approximately 13 times less in total V.O.C.s than the allowable requirements set from strict 3rd party environmental certification organizations, such as Certipur-US and Oeko-tex (00.039 parts per million to their 00.5 parts per million allowable level). It was also approximately 13 times lower than GreenGuard's Indoor Air Quality total V.O.C. requirements and approximately 6 times lower than Greenguard's most stringent Schools and Children total V.O.C. requirements. To go along with the Biogreen memory foam, the rest of the mattress uses a channeled resilient foam layer underneath the Biogreen memory foam, which has been Certipur-US Certified and a waterborne adhesive that is used to bond the layers and has been Greenguard certified. They also use a fire resistant outer socking material, which is free of dangerous chemicals, such as PBDE, Bromine and Boric acid, as well as being biodegradable. While both mattresses have been rated safe, we can't help but be impressed by the fact that the whole Tempflow mattress, not just the Biogreen memory foam, is an environmentally green way to go.
The Tempflow uses a patent pending technology that allows airflow to circulate through the foam via a patent pending ventilation system for up to 100 times more breathability. As a GreenGuard Gold Certified mattress, they also are improving air quality and health with lowest reported V.O.C. off- gassing certification in the world. Go to www.Tempflow.com to learn more.
Both mattress claim a cooler sleep, but only Tempflow has the optional patent pending technology that allows their airflow to circulate through the foam and produce up to 100 times more breathability than if they just used channels or holes, with the two not being matched together. The Tempflow proprietary Biogreen memory foam also uses a high enough density to allow them to offer a warranty that is four times longer than Tempur-Pedic, with Tempflow offering an unprecedented 40-year limited warranty to Tempur-Pedic's 10 years. Both companies offer a sleep trial to ensure that you are completely satisfied you're your purchase, but the Tempflow offers a 120-day sleep trial, as compared to Tempur-Pedic(R)'s 90-day sleep trial.
Needless to say, my staff and I agree that this new patented technology that the Tempflow uses, really offers a way to get the feel and support of the leading brand and very popular Tempur-Pedic(R), but with some definite longevity and breathability advantages.
Therefore, we unanimously decided to give the Tempflow visco-elastic foam mattress our Space Daily product innovation award for making excellent use of NASA's space technology for home use and bringing to the market place a new, innovative technology that really works.
Tempflow is a trademark of Relief-Mart, Inc. Tempur-Pedic is a registered trademark of Dan-Foam A/S Corporation. We don't sell either the Tempur-Pedic or Temperflow brands. The information on this site with regard to Tempflow and Tempur-Pedic mattress brands is strictly for comparison purposes.

Related Links
Tempflow Innovation Award at SpaceDaily.com
Tempflow
Space Technology News - Applications and Research