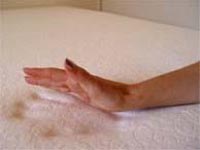 Tempur-Pedic Mattress Comparison & Memory Foam Mattress Review

..
Ferromagnetism plus semiconductor equals spintronics
More, faster, better, cheaper. These are the demands of our device-happy and data-centered world. Meeting these demands requires technologies for processing and storing information. Now, a significa ... more

..
Neutrons tap into magnetism in topological insulators at high temperatures
A multi-institutional team of researchers has discovered novel magnetic behavior on the surface of a specialized material that holds promise for smaller, more efficient devices and other advanced te ... more

..
Scientists Demonstrate a Compact, Efficient Single Photon Source
Quantum information science and technology has emerged as a new paradigm for dramatically faster computation and secure communication in the 21st century. At the heart of any quantum system is the m ... more

..
Researchers create a first frequency comb of time-bin entangled qubits
Quantum mechanics, with its counter-intuitive rules for describing the behavior of tiny particles like photons and atoms, holds great promise for profound advances in the security and speed of how w ... more

..
A brand-new way to produce electron spin currents
With apologies to Isaac Asimov, the most exciting phase to hear in science isn't "Eureka," but "That's funny...". A "that's funny" moment in a Colorado State University physics lab has led to a fund ... more

..
NREL offers path to high-performance 2-D semiconductor devices
Researchers at the Energy Department's National Renewable Energy Laboratory (NREL) have uncovered a way to overcome a principal obstacle in using two-dimensional (2D) semiconductors in electronic an ... more

..
Atoms placed precisely in silicon can act as quantum simulator
In a proof-of-principle experiment, researchers at UNSW Australia have demonstrated that a small group of individual atoms placed very precisely in silicon can act as a quantum simulator, mimicking ... more

..
Spintronics for future information technologies
They thereby demonstrated that this class of materials is suitable for data processing based on spin. The work has been published in the renowned periodical Physical Review B and was selected as "Ed ... more