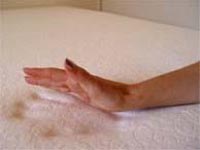 Tempur-Pedic Mattress Comparison & Memory Foam Mattress Review

..
Spray-printed crystals to move forward organic electronic applications
Has the time come to replace traditionally used silicon with printable organic semiconductor inks? University of Surrey scientists believe so, especially for future electronics that need to be flexi ... more

..
For wearable electronic devices, NIST shows plastic holes are golden
In science, sometimes the best discoveries come when you're exploring something else entirely. That's the case with recent findings from the National Institute of Standards and Technology (NIST), wh ... more

..
Making spintronic neurons sing in unison
What do fire flies, Huygens's wall clocks, and even the heart of choir singers, have in common? They can all synchronize their respective individual signals into one single unison tone or rhythm. No ... more

..
Tracking the flow of quantum information
If objects in motion are like rainwater flowing through a gutter and landing in a puddle, then quantum objects in motion are like rainwater that might end up in a bunch of puddles, all at once. Figu ... more

..
World's fastest quantum simulator operating at the atomic level
Kenji Ohmori (Institute for Molecular Science, National Institutes of Natural Sciences, Japan) has collaborated with Matthias Weidemuller (University of Heidelberg), Guido Pupillo (University of Str ... more

..
Researchers discover new method to dissipate heat in electronic devices
Controlling the flow of heat through semiconductor materials is an important challenge in developing smaller and faster computer chips, high-performance solar panels, and better lasers and biomedica ... more

..
The thinnest photodetector in the world
The Center for Integrated Nanostructure Physics, within the Institute for Basic Science (IBS) has developed the world's thinnest photodetector, that is a device that converts light into an electric ... more

..
Breakthrough in the quantum transfer of information between matter and light
A paper titled "High-Fidelity and Ultrafast Initialization of a Hole-Spin Bound to a Te Isoelectronic Centre in ZnSe" was recently published in the prestigious journal Physical Review Letters. ... more