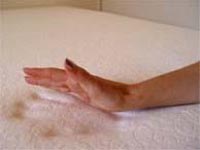 Tempur-Pedic Mattress Comparison & Memory Foam Mattress Review

..
Laser can control a current in graphene within one femtosecond
Controlling electronic current is essential to modern electronics, as data and signals are transferred by streams of electrons which are controlled at high speed. Demands on transmission speeds are ... more

..
China-backed fund to buy British chipmaker after US snub
Canyon Bridge, an investment fund backed by a Chinese state-owned group, is to acquire the British electronics company Imagination Technologies, shortly after being barred by Washington from buying US chipmaker Lattice Semiconductor. ... more

..
Quantum sensors decipher magnetic ordering in semiconducting material
For the first time, physicists have successfully imaged spiral magnetic ordering in a multiferroic material. These materials are considered highly promising candidates for future data storage media. ... more

..
The dark side of quantum computers
The era of fully fledged quantum computers threatens to destroy internet security as we know it. Researchers are in a race against time to prepare new cryptographic techniques before the arrival of ... more

..
Toshiba: Japan's faded titan selling the family silver
At a train station used by hundreds of workers at struggling Japanese electronics giant Toshiba, an advert is apparently trying to poach staff worried by their employer's precarious financial position. ... more

..
Trump blocks Chinese acquisition of US semiconductor firm
President Donald Trump on Wednesday blocked attempts by a Chinese state-owned firm to acquire an American semiconductor manufacturer on national security concerns, drawing a rebuke from Beijing. ... more

..
Flip-flop qubits: Radical new quantum computing design invented
Engineers at Australia's University of New South Wales have invented a radical new architecture for quantum computing, based on novel 'flip-flop qubits', that ... more

..
Researchers validate UV light's use in improving semiconductors
A discovery by two scientists at the Energy Department's National Renewable Energy Laboratory (NREL) could aid the development of next-generation semiconductor devices. The researchers, Kwangw ... more