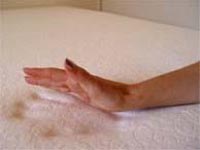 Tempur-Pedic Mattress Comparison & Memory Foam Mattress Review

..
Little Lander That Could: The Legacy of Philae
Philae, the little lander that was declared lost by the European Space Agency (ESA), has achieved pretty much despite of its relatively short operational life on the surface of the comet 67P/Churyum ... more

..
Comets in the "X"-treme
For millennia, people on Earth have watched comets in the sky. Many ancient cultures saw comets as the harbingers of doom, but today scientists know that comets are really frozen balls of dust, gas, ... more

..
UCF gets grant to plan for space mining on NASA mission
UCF physics professor Dan Britt has been named to the New Horizons mission team as the spacecraft heads to the Kuiper Belt. He's also just landed a grant to help create fake asteroid material, which ... more

..
Glass beads, meteorite fragments hold secret to working on asteroids
The secret to planetary formation and working on asteroids lies in a handful of glass beads and meteorite fragments. These materials are the main component for the Astromaterials Research and ... more

..
SwRI-led team identifies clathrate ices in comet 67P
For decades, scientists have agreed that comets are mostly water ice, but what kind of ice - amorphous or crystalline - is still up for debate. Looking at data obtained by ESA's Rosetta spacecraft i ... more

..
The colour-changing comet
Rosetta's comet has been seen changing colour and brightness in front of the ESA orbiter's eyes, as the Sun's heat strips away the older surface to reveal fresher material. Rosetta's Visible and Inf ... more

..
Asteroid-Hunting Spacecraft Delivers a Second Year of Data
NASA's Near-Earth Object Wide-field Survey Explorer (NEOWISE) mission has released its second year of survey data. The spacecraft has now characterized a total of 439 NEOs since the mission was re-s ... more

..
One year on station at Ceres
One year after taking up its new residence in the solar system, Dawn is continuing to witness extraordinary sights on dwarf planet Ceres. The indefatigable explorer is carrying out its intensive cam ... more