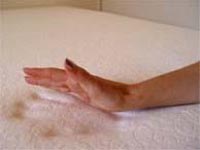 Tempur-Pedic Mattress Comparison & Memory Foam Mattress Review

..
A solar-powered asteroid nursery at the orbit of Mars
The planet Mars shares its orbit with a handful of small asteroids, the so-called Trojans. Among them, one finds a unique group, all moving in very similar orbits, suggesting that they originated fr ... more

..
SwRI scientists dig into the origin of organics on Ceres
Since NASA's Dawn spacecraft detected localized organic-rich material on Ceres, Southwest Research Institute (SwRI) has been digging into the data to explore different scenarios for its origin. Afte ... more

..
Spinning comet rapidly slows down during close approach to Earth
Astronomers at Lowell Observatory observed comet 41P/Tuttle-Giacobini- Kresak last spring and noticed that the speed of its rotation was quickly slowing down. A research team led by David Schleicher ... more

..
Samples brought back from asteroid reveal 'rubble pile' had a violent past
Curtin University planetary scientists have shed some light on the evolution of asteroids, which may help prevent future collisions of an incoming 'rubble pile' asteroid with Earth. The scient ... more

..
Number of Undiscovered Near-Earth Asteroids Revised Downward
Fewer large near-Earth asteroids (NEAs) remain to be discovered than astronomers thought, according to a new analysis by planetary scientist Alan W. Harris of MoreData! in La Canada, California. Har ... more

..
Close Approach of Asteroid 2012 TC4 Poses no Danger to Earth
The house-sized asteroid 2012 TC4 is slated to give Earth a close shave on Thursday, October 12, swooshing by our planet at approximately 5:41 UTC (1:41 a.m. EDT) at a distance of about 31,000 miles ... more

..
Earth's New Traveling Buddy Is an Asteroid, Not Space Junk
At the 49th Annual Division for Planetary Sciences Meeting in Provo, Utah, astronomers led by Vishnu Reddy at the University of Arizona Lunar and Planetary Laboratory confirm the true nature of one ... more

..
Asteroid Tracking Network Observes Close Approach
On Oct. 12 EDT (Oct. 11 PDT), a small asteroid designated 2012 TC4 will safely pass by Earth at a distance of approximately 26,000 miles (42,000 kilometers). This is a little over one tenth the dist ... more