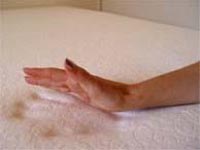 Tempur-Pedic Mattress Comparison & Memory Foam Mattress Review

..
Could a Colorado earthquake have been triggered by dinosaur extinction impact?
Researchers have found signs of fault displacement at well-known rock outcrops in Colorado that mark the end-Cretaceous asteroid impact that may have hurried the extinction of the dinosaurs. They wi ... more

..
Asteroid to fly safely past Earth on April 19
A relatively large near-Earth asteroid discovered nearly three years ago will fly safely past Earth on April 19 at a distance of about 1.1 million miles (1.8 million kilometers), or about 4.6 times ... more

..
Ceres' temporary atmosphere linked to solar activity
Scientists have long thought that Ceres may have a very weak, transient atmosphere, but mysteries lingered about its origin and why it's not always present. Now, researchers suggest that this tempor ... more

..
Rosetta's intimate portrait of a comet: read all about it
Rosetta's pioneering mission to explore a comet in unprecedented detail completed operations last year. As the science continues, members of the public, as well as scientists, can freely access hund ... more

..
Comet That Took a Century to Confirm Passes by Earth
On April 1, 2017, comet 41P will pass closer than it normally does to Earth, giving observers with binoculars or a telescope a special viewing opportunity. Comet hunters in the Northern Hemisphere s ... more

..
Wrong-way asteroid plays 'chicken' with Jupiter
For at least a million years, an asteroid orbiting the "wrong" way around the sun has been playing a cosmic game of chicken with giant Jupiter and with about 6,000 other asteroids sharing the giant ... more

..
ExoTerra to become first privately owned space company to fly to an asteroid
NASA has awarded ExoTerra Corporation a $2.5M contract to demonstrate a novel solar electric propulsion system for CubeSats that will enable the shoebox-sized spacecraft to triple their available po ... more

..
A Trojan in Retreat
For at least a million years, an asteroid orbiting the "wrong" way around the Sun has been playing a cosmic game of chicken with giant Jupiter and about 6,000 other asteroids sharing the giant plane ... more