Russia Set To Launch Satellites From Submarine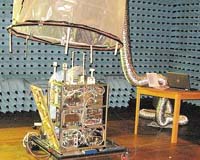 Russia successfully launched a micro-satellite in May 2006 from a submarine.
by Staff Writers

Moscow (RIA Novosti) Mar 06, 2007

Russia will launch foreign satellites into orbit from a submarine in 2007, the Navy commander said Monday. The Republic of South Africa reported in February that the Sumbandila satellite will be launched in May from a Russian submarine in the Barents Sea. "This year, Russia will conduct a series of satellite launches on behalf of foreign countries using ballistic missiles onboard a submarine," Vladimir Masorin said.

Sumbandila will be used to provide early warning of natural calamities and man-caused disasters.

In July 2005, Russia's Federal Space Agency reported that the Cosmos-1 satellite, launched from a nuclear submarine on a Volna booster rocket, fell into the sea June 21, 2005 as the result of engine failure.

But in May 2006, Russia successfully launched the Compass-2 micro-satellite, designed to monitor natural and man-caused disasters, from the Yekaterinburg submarine in the Barents Sea using a Shtil booster rocket.
Email This Article
Related Links
Microsat and Nanosats at SpaceMart.com



Surrey Prepares For New Microsat Market Growth
Guildford, UK (SPX) Feb 16, 2007

SSTL has strengthened its Board of Directors with 3 new appointments to drive further growth. Sir Martin Sweeting has been appointed as Group Executive Chairman, Dr Matt Perkins as Group Chief Executive Officer and Dr John Forrest as Deputy Chairman and Senior Independent Director. The Company expects to increase its turnover this year by over 25%, meanwhile the new team will drive the long term growth strategy.