NASA Says Destroyed Chinese Satellite Is No Threat To Space Station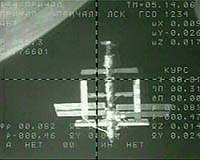 Obviously it's no danger to the ISS, otherwise the various US intel and defence agencies which tracked the entire test process over several weeks, would have said something.
by Staff Writers

Paris (AFP) Jan 23, 2007

Debris thrown out by a satellite destroyed by Chinese authorities earlier this month poses no immediate threat to the International Space Station, NASA administrator Michael Griffin said on Tuesday. "We are always performing debris analysis and so far we do not see any need for debris avoidance manoeuvres," Griffin told a news conference in Paris attended by representatives of agencies participating in the construction of the space station.

China publicly confirmed on Tuesday that it had tested a satellite-destroying weapon on an old weather satellite on January 11, sparking international concern about the Asian giant's rising military power and a potential arms race in space.

The test means that China becomes the third country after the United States and the former Soviet Union to shoot down an object in space.

The International Space Station, a joint venture between five agencies -- from Canada, Europe, Japan, Russia and the United States -- orbits the earth at an altitude of 400 kilometre (250 miles).

Source: Agence France-Presse
Related Links

News About Space Exploration Programs
Read More About the Chinese Space Program
Follow the rise and rise of the second hyperpower at SinoDaily.com
Space Station News at Space-Travel.Com

International Space Station Heads Of Agencies Meet At ESA Headquarters

Paris, France (ESA) Jan 24, 2007

The heads of the International Space Station partners, space agencies from Canada, Europe, Japan, Russia and the United States, met at European Space Agency Headquarters in Paris, France, on 23 January 2007, to review ISS cooperation. In their discussions, the Heads of Agency noted the significant accomplishments of the partnership in implementing the Space Station configuration and assembly sequence endorsed at their last meeting in March 2006.