RED SCIENCE - PART ONE - PART TWO - PART THREE - PART FOUR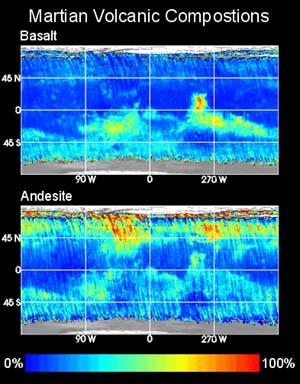 "Mapping data from the Thermal Emission Spectrometer (TES) aboard the Mars Global Surveyor Spacecraft has revealed volcanic compositions of much of the Martian surface. TES has revealed basaltic materials which are restricted to the Martian southern highlands and andesites (which have a higher silicon content) that display the largest concentrations in the younger northern lowlands. This implies that a fundamental change in volcanism occured at some point in the Martian past. This is the first observation of widespread andesites on Mars and raises the question of how they occur."

A Surveyor's Chronicles
by Bruce Moomaw
Cameron Park - April 11, 2000 - After a quick fly through of the rest of Sol, the 31st Annual Lunar and Planetary Science Conference came back to the subject of Mars dedicating two days to a thorough debate over whether Mars Meteorite ALH84001 contains evidence of ancient Martian microbes.

The second focus of discussion were the first detailed results from the Thermal Emission Spectrometer on the Mars Global Surveyor spacecraft -- an important instrument whose data has taken longer to analyze properly than that from the craft's other instruments.

The Thermal Emission Spectrometer (TES) takes spectra of mid-wavelength infrared radiation emitted by the soil and rocks of Mars' surface as a direct result of their warmth, and it can identify a large number of scientifically important minerals -- including many, such as carbonates, sulfates and other salts, which are indicators of areas where liquid water might have existed on the surface of ancient Mars and which would be promising hunting grounds for Martian fossils.

What the TES didn't find is as interesting as what it did find. J.L.Bandfield and V.E. Hamilton confirmed their recent report in the March 3 "Science" that TES has found that the volcanic rock which covers most of Mars' surface tends to fall into two general types:
basalt in the rugged highlands that cover the southern hemisphere, and,
andesite -- a volcanic rock with a higher silica content -- in the smoother northern lowlands.
"These distributions indicate that Martian volcanism may have become more evolved over time," reported Bandfield and Hamilton.

The detection of andesite confirms the biggest surprise of the Mars Pathfinder mission, which found andesite rocks at its landing site.

Andesite was not expected to exist on Mars in large amounts because, on Earth, it is the product of sea water being drawn deep underground by crustal tectonics ("continental drift") and mixing with the magma (underground lava) there -- and crustal tectonics has never existed on Mars to any large degree.

Apparently some other process has been mixing water with magma deep under the surface of Mars. We're not sure of the details, but this does provide further evidence that ancient Mars had quite a lot of water stored in its crust, and may still have it.

Another puzzle in the TES data is that, so far, it shows no area on Mars with entirely the same infrared spectra as any of the 15 Mars meteorites that have been found on Earth.

These meteorites are known beyond doubt (for a variety of reasons) to have come from Mars; and all those recognized so far, judging from their rock formation dates, seem to have been ejected by only a few individual giant meteoroid impacts on the Martian surface -- which makes it possible that they may have come, by chance, from a few small areas of the Martian surface that just happen to be unusual.

Bandfield and Hamilton's "Science" article says that the famous ALH84001 meteorite and some others are probably from deep in the Martian crust -- which means that their material probably makes up only a very small part of the modern exposed surface -- and photos suggest that all the other known Martian meteorites may have come from two small craters on the relatively recent lava flows in the vicinity of Olympus Mons and Mars' other giant shield volcanoes.

But "Science" states that "The TES spectra from these regions apparently do not match the specific surface rock type", and Hamilton said at the LPSC that "A search for spectral signatures resembling those of [Martian meteorites] in TES data is ongoing."





Thanks for being here;
We need your help. The SpaceDaily news network continues to grow but revenues have never been harder to maintain.

With the rise of Ad Blockers, and Facebook - our traditional revenue sources via quality network advertising continues to decline. And unlike so many other news sites, we don't have a paywall - with those annoying usernames and passwords.

Our news coverage takes time and effort to publish 365 days a year.

If you find our news sites informative and useful then please consider becoming a regular supporter or for now make a one off contribution.
SpaceDaily Contributor
$5 Billed Once

credit card or paypal

SpaceDaily Monthly Supporter
$5 Billed Monthly

paypal only