OUR EUROPAN NEIGHBOURS - PART ONE - PART TWO - PART THREE - PART FOUR - PART FIVE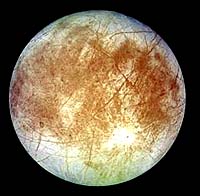 Europa is about 3,160 kilometers (1,950 miles) in diameter, or about the size of Earth's moon. This image was taken on September 7, 1996, at a range of 677,000 kilometers (417,900 miles) by the solid state imaging television camera onboard the Galileo spacecraft during its second orbit around Jupiter. The image was processed by Deutsche Forschungsanstalt fuer Luft- und Raumfahrt e.V., Berlin, Germany.

Increasing Evidence That Europa Lives
by Bruce Moomaw
Cameron Park - April 11, 2000 - NASA officials managing last week's First Annual Conference on Astrobiology were surprised to see 600 scientists and over 20 journalists turnout to discuss the possibility of life (even primitive life) on other worlds.

Like the unexpected popularity of the Pathfinder landing on Mars it was a pleasant surprise for the Agency. Conference organizers from NASA's astrobiology division at the Ames Research Center along with other NASA officials said the agency will now be taking astrobiology even more seriously as a research priority backed by increased funding.

As one of those reporters, I attended almost all of the 51 talks delivered at the Conference, while conducting some ten interviews with various scientists.

My first report will be on the subject covered by the first talks at the Conference: Jupiter's moon Europa. The main revelation at the Conference was that a startling new idea is starting to take significant hold among Europa researchers: the idea that we may not have to melt our way down through dozens of kilometers of ice to Europa's (possible) subsurface liquid-water ocean to look for life there. Instead we may only need to scratch the surface to find it.

Richard Greenberg and Robert Pappalardo, representing two major teams of researchers -- despite the fact that their concepts of the nature of Europa's surface layer of frozen water ice, and the activities going on in it, vary widely -- have both reached that conclusion, for entirely different reasons.

Cutaway views of the possible internal structures of the Galilean satellites. Ganymede is at the lower left, Callisto at the lower right, Io on the upper left, and Europa on the upper right. The surfaces of the satellites are mosaics of images obtained in 1979 by NASA's Voyager spacecraft, and the interior characteristics are inferred from gravity field and magnetic field measurements by NASA's Galileo spacecraft. The satellites are shown according to their actual relative sizes. Ganymede's radius is 2634 kilometers (km); Callisto's is slightly smaller at 2403 km; Io's radius is 1821 km, similar to the 1738 km radius of our Moon; Europa's radius is 1565 km, not too much smaller than our Moon's radius. With the exception of Callisto, all the satellites have metallic (iron, nickel) cores (shown in gray) drawn to the correct relative size. Again, with the exception of Callisto, all the cores are surrounded by rock (shown in brown) shells. Io's rock or silicate shell extends to the surface, while the rock layers of Ganymede and Europa (drawn to correct relative scale) are in turn surrounded by shells of water in ice or liquid form (shown in blue and white and drawn to the correct relative scale). Callisto is shown as a relatively uniform mixture of comparable amounts of ice and rock. The surface layers of Ganymede and Callisto are shown as white to indicate that they may differ from the underlying ice/rock layers in a variety of ways including, for example, the percentage of rock they contain. The white surface layer on Europa could have similar significance, although it could also suggest an ice layer overlying a liquid water ocean. Galileo images of Europa suggest that a liquid water ocean might now underlie a surface ice layer several to ten kilometers thick; however, this evidence is also consistent with the existence of a liquid water ocean in the past. It is not certain if there is a liquid water ocean on Europa at present.

Like Io, Europa is heated by the fact that its orbit is kept slightly eccentric by the tuggings of Jupiter's other big moons, with the result that the tidal bulges produced on Europa by Jupiter itself expand and contract slightly during each orbit and shift from side to side, producing frictional heat as the layers of Europa's internal material rub against each other.

But there has always been great uncertainty as to whether that heating has allowed Europa to maintain a subsurface liquid ocean.

The exact mechanical properties of water ice under great pressure aren't really known all that well; and since the degree to which Europa's outer ice crust bulges tidally -- and thus produces such frictional heat -- depends greatly on whether it had a liquid ocean under it to begin with. Moreover, Europa's ability to maintain a liquid ocean - between that surface ice layer and the moon's main rock body - largely depends on just how big a liquid water layer it had during its earliest days.

The Galileo spacecraft's close up observations have now left no doubt that Europa's rock-hard surface crust of super-cold water ice (about minus 170 deg C) has a layer of something softer under it that has been deforming surface features, probably right up to the present -- but there is still doubt as to whether that soft material is actual liquid water, an ice-water slush, or just somewhat warmer ice. Ice at warmer temperatures, though still solid, is a good deal softer and flows at rates that are very slow, it could still deform Europa's surface features.

Dr. Greenberg holds that Europa's overall layer of solid ice is very thin -- only a few kilometers -- with a layer of liquid water directly under it.

He presented a variety of evidence to this effect. First, there's Europa's spectacular surface network of cracks and ridges across its icy surface -- most of which consist of a band of light-colored "fresh" ice between two strips of darker ice.

These cracks have apparently been produced by the in-and-out tidal flexing of Europa's surface ice crust. But Greenberg and his colleagues have noticed some very interesting traits in their actual surface patterns, which strongly indicate that while Europa constantly keeps the same face turned toward its home planet -- as most moons in the Solar System do -- its surface may not!





Thanks for being here;
We need your help. The SpaceDaily news network continues to grow but revenues have never been harder to maintain.

With the rise of Ad Blockers, and Facebook - our traditional revenue sources via quality network advertising continues to decline. And unlike so many other news sites, we don't have a paywall - with those annoying usernames and passwords.

Our news coverage takes time and effort to publish 365 days a year.

If you find our news sites informative and useful then please consider becoming a regular supporter or for now make a one off contribution.
SpaceDaily Contributor
$5 Billed Once

credit card or paypal

SpaceDaily Monthly Supporter
$5 Billed Monthly

paypal only