Services Of Insat-4A Disrupted For Over 30 Minutes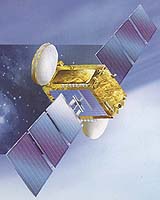 File image of the INSAT-4A.
by Staff Writers

Chennai, India (SPX) Jan 03, 2007

The services of the INSAT-4A satellite were disrupted for over 30 minutes at 4 pm this afternoon (January 2, 2007) due to solar disturbances. A press release from the Indian Space Research Organisation said the satellite "lost earth lock" when one of the momentum wheels used for stabilising it got switched off at around 4 pm.

"ISRO engineers at the Master Control Facility in Hassan (Karnataka) immediately took action to recover the earth lock and orient the satellite properly within half an hour", following which the services were restored, the release said.









Related Links

ISRO
Solar Science News at SpaceDaily
All about the technology of space and more

STEREO Sends Back First Solar Images

Greenbelt MD (SPX) Dec 20, 2006

NASA's twin Solar Terrestrial Relations Observatories (STEREO) sent back their first images of the sun this week and with them a view into the sun's mounting activity. One image shows the first coronal mass ejection (CME) observed by STEREO's Ahead spacecraft, taken Dec. 9. The other two images show the sun's super-hot atmosphere.