Embry-Riddle And Zero Gravity To Collaborate On Weightless Flights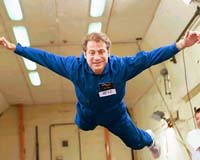 -
by Staff Writers

Daytona Beach FL (SPX) Nov 05, 2007

Researchers, teachers and students will have access to weightless and variable-gravity conditions under a new agreement between Embry-Riddle Aeronautical University and Zero Gravity Corp. (Zero-G). Embry-Riddle and Zero-G will work together to integrate weightless flights and space science workshops for K-12 teachers, develop experiment programs for high school and college students, and expand microgravity, lunar gravity, and Mars gravity research opportunities aboard Zero-G's G-Force One aircraft.

The collaboration will include Embry-Riddle's support for development of the Stephen Hawking Microgravity Education and Research Center. The Hawking Center is an initiative of Space Florida, Florida's aerospace development agency, conceived after the renowned astrophysicist flew aboard G-Force One earlier this year. Embry-Riddle's student researchers are frequent flyers on NASA's microgravity educational flights, making the university well qualified to work with Zero-G and Space Florida to develop Hawking Center research projects.

"Zero-G has already demonstrated an outstanding commitment to providing professional development for science and mathematics teachers, and has a unique platform for supporting innovative R and D," said Michael Hickey, director of Embry-Riddle's TeachSpace educational program. "We look forward to leveraging Zero-G's capabilities to pursue our common interests in space education, research, and training, especially as NASA moves to privatize its own microgravity aircraft program."
Community
Email This Article
Comment On This Article
Related Links
Embry-Riddle Aeronautical University
Zero-G
The Physics of Time and Space

Cluster And Double Star Pinpoint The Source Of Bright Aurorae
Paris, France (ESA) Sep 12, 2007

Colourful aurorae and perturbations of GPS signals are just some of the effects of a magnetospheric phenomenon known as a magnetic substorm. Up to now, the onset of this phenomenon has been explained by two competing models: current disruption and near-Earth reconnection. A new study published 20 January 2007 in Geophysical Research Letters challenges this binary vision of substorm onset. Thanks to simultaneous measurements performed by the four satellites of the ESA/NASA Cluster mission and the CNSA/ESA Double star mission, a third type of substorm onset is now suggested.