.
China Set To Launch Manned Space Mission In 2008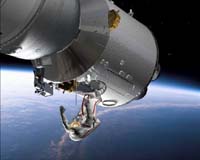 File image.
by Staff Writers

Beijing (RIA Novosti) Jan 08, 2008

China is planning to launch its third manned spacecraft and 15 carrier rockets, and orbit 17 satellites in 2008, a senior space official said on Monday.

The spacecraft Shenzhou-7 with three astronauts on board is likely to lift off after the Beijing Olympic Games in 2008, said Huang Qiang, secretary general of China's Commission of Science, Technology and Industry for National Defense (COSTIND).

China, which has recently unveiled comprehensive space exploration plans, is only the third country in the world capable of launching manned spaceflights, after the United States and Russia.

In 2003 and 2005 the Shenzhou-5 and Shenzhou-6 spacecraft blasted off sending three astronauts into space.
Community
Email This Article
Comment On This Article
Related Links
The Chinese Space Program - News, Policy and Technology
China News from SinoDaily.com
hello world


China Reports Fourteen Potential Astronauts In Training For Three Seats

Beijing, China (XNA) Jan 03, 2008

Up to fourteen astronauts, including China's first three astronauts, are reported to be competing for places on the nation's third manned space mission currently slated for October 2008. Yang Liwei, China's first astronaut, and Fei Junlong and Nie Haisheng, who flew China's second mission as a dual mission, are said to be be in training along with eleven other potential astronauts Xinhua News reported.

.