.
Belarus To Launch Its Second Satellite In 2009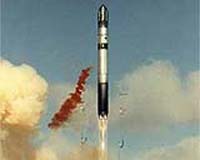 File image of Dnepr rocket launch.
by Staff Writers

Minsk (RIA Novosti) Nov 14, 2007

Belarus plans to launch its second satellite in 2009, the National Academy of Sciences said on Tuesday. Pyotr Vityaz, the first deputy chairman of the academy's presidium, said the Belka-2 satellite would be launched by a Russian carrier rocket.

Belarus launched its first satellite, Belka, in July 2006. However, a Dnepr rocket carrying the Belarusian satellite, along with several international satellites, crashed shortly after liftoff from the Baikonur space center in Kazakhstan, due to a first stage engine shutdown.

Belka was the name of a Soviet dog, who, along with her companion, Strelka, was the first creature to go into orbit and return alive, making her trip in August 1960.
Community
Email This Article
Comment On This Article
Related Links
Asteroid and Comet Mission News, Science and Technology
hello world


Rosetta Swing-By A Success

Paris, France (ESA) Nov 14, 2007

An important milestone has just been accomplished as Rosetta successfully swung by Earth at 21:57 CET. The spacecraft will now be catapulted towards the outer Solar System with its newly-gained energy before coming back to Earth for another boost.

.