Arianespace To Launch Syracuse 3A And Galaxy 15 On October 13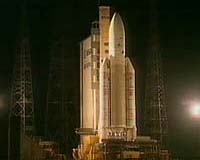 File photo of an Ariane 5 rocket.
Evry, France (SPX) Sep 29, 2005

Following an extensive analysis of certain launcher elements, Arianespace has set the date for the next Ariane 5 launch.

The next launch is now scheduled for the evening of Thursday, October 13. An Ariane 5 Generic will be used to orbit the Syracuse 3A and Galaxy 15 satellites, with liftoff during the following launch window:
07:32 p.m. to 08:56 p.m., local time in Kourou, French Guiana,
06:32 p.m. to 07:56 p.m., Washington, D.C.,
22:32 to 23:56, GMT, on Thursday, October 13,
12:32 a.m. to 01:56 a.m., on Friday, October 14 in Paris, France.
Related Links

SpaceDaily
Search SpaceDaily
Subscribe To SpaceDaily Express

Moscow, Seoul To Cooperate In Space Exploration
Moscow, Russia (SPX) Sep 28, 2005

A bilateral agreement between Russia and South Korea was signed Tuesday authorizing the building of a space center in South Korea and the training of a Korean astronaut for a mission at the International Space Station, reports RIA Novosti.