An end game appeared to be emerging after the most decisive week in the 42-day-old US campaign in Afghanistan: an intensive drive to kill or capture al-Qaeda leaders before they can regroup from the Taliban's crashing fall in the north.

US Defense Secretary Donald Rumsfeld and US military leaders were reluctant to count out the Taliban, but they made clear that the campaign has narrowed to the essential US objective -- the destruction of al-Qaeda and its leaders.

"In the history of warfare when things are not going well for an organization, that is often an opportune time to make progress," Rumsfeld said last week. "And I think that it is an important time, because they are not attacking, they are retreating."

In a week of stunning reversals, the Taliban was routed from the north, abandoned the Afghan capital and by week's end was clinging to its spiritual stronghold in Kandahar.

With their Afghan haven gone with the Taliban, Al-Qaeda's leaders became moving targets in a suddenly hostile land.

Osama bin Laden, al-Qaeda's leader and the chief US suspect in September 11 terrorist attacks on the United States, was still at large.

But an intensive US manhunt had scored devastating blows to the terrorist network.

Muhammad Atef, Bin Laden's number two and al-Qaeda's military commander, was believed killed in a US air strike near Kabul, US officials said.

"Once we can confirm that this is true, Osama bin Laden no longer has a principal assistant that he has been counting on for developing military or terrorist operations," said Rear Admiral John Stufflebeem, the deputy director of operations of the Joint Staff.

Atef's death, he said, would mean that the noose around bin Laden would be "one notch closer."

Other Taliban and al-Qaeda leaders were captured, and some were killed, mostly in air strikes that zeroed in on buildings where gatherings were spotted, Rumsfeld said.

"We have been obviously seeking out command and control activities, and have been targeting them and have successfully hit a number of them, particularly in the last five or six days," he said.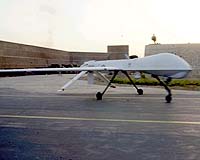 A Predator from the 11th Reconnaissance Squadron leaves the haz area in preparation for an eighteen-hour mission in support of Operation Enduring Freedom Nov. 9, 2001. (U.S. Air Force photo by Tech. Sgt. Scott Reed, 1st Combat Camera

US special forces were looking for intelligence windfalls in hastily abandoned offices and headquarters, while others conducted armed reconnaissance in the south and mounted roadblocks looking for fleeing al-Qaeda leaders, according to Pentagon officials.

Caves and tunnels from Kabul to the Khyber Pass in eastern Afghanistan were being pounded to deny al-Qaeda and the Taliban hiding places, they said.

US manned and unmanned reconnaissance aircraft and satellites were watching the roads to alert fighter aircraft for the movements of troops or vehicles with their leaders.

Taliban forces, once said to be 50,000 strong, struggled to survive by changing sides or trying to blend into the countryside, Pentagon officials said.

"The ones who have a problem are the foreigners that are in there, that come from other countries, particularly the al-Qaeda, who are mostly from the Middle East, some from neighboring countries," said Rumsfeld.

"They are less likely to successfully fade into the communities or to defect and change sides," he added.

US military officials believe that most of the fighters trapped in the northern town of Kunduz were Arab or Pakistanis who opted to fight rather than surrender.

Pentagon officials also reported pockets of resistance elsewhere around the country, including in the west near Herat and Mazar-i-Sharif, and opposition control of other areas in the south and east remained in question.

But by week's end the Taliban had been backed into Kandahar, its spiritual capital in the south, which also was under attack.

The possibility of the Taliban may plan to come back as guerrilla fighters still weighs on US military leaders, adding to the sense of urgency of capturing or killing al-Qaeda's and Taliban's leaders.

All rights reserved. © 2000 Agence France-Presse. Sections of the information displayed on this page (dispatches, photographs, logos) are protected by intellectual property rights owned by Agence France-Presse. As a consequence, you may not copy, reproduce, modify, transmit, publish, display or in any way commercially exploit any of the content of this section without the prior written consent of Agence France-Presse.