The first pictures taken in orbit by SNAP-1, the world's most advanced nanosatellite designed and built in the UK at the Surrey Space Centre by Surrey Satellite Technology Ltd (SSTL), have just been released.

These remarkable images were acquired by the SNAP-1 nanosatellite under automatic control just seconds after the satellite was deployed into orbit, by an innovative "machine vision system" comprising four micro-miniature single-chip video cameras, each smaller than a 2 pence (50 cent) piece! SNAP-1, weighing just 6.5kg, was launched on 28th June this year by a COSMOS rocket from the Plesetsk Cosmodrome in northern Russia. Also on this launch was a 50kg micro-satellite, Tsinghua-1, designed and built at the Surrey Space Centre in collaboration with China's Tsinghua University. Both satellites were carried together into space attached to a Russian search-and-rescue (COSPAS-SARSAT) satellite called Nadezhda.

Dr Craig Underwood, chief architect of the SNAP project at the Surrey Space Centre, said: "One of the principal objectives of the SNAP-1 mission is to demonstrate the ability of nanosatellites to act as robotic 'eyes-in-the-sky' to allow astronauts and ground controllers to examine the outside of their space vehicles. To test this concept, we used SNAP's cameras to provide 'video telemetry' of its own deployment, as well as to image the deployment of Tsinghua-1. The whole 60-second imaging sequence was controlled automatically by one of SNAP's on-board computers. The very first picture, taken just two seconds after deployment, shows the Nadezhda satellite which had carried us into orbit, and a few seconds later, the cameras showed what we wanted to see - Tsinghua-1 ejecting into space.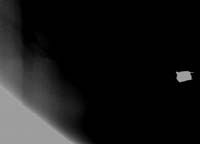 The Chinese, Tsinghua-1, microsatellite orbiting above the limb of the Earth imaged by SNAP-1 just seconds after its deployment when the spacecraft were approximately 8m (30 feet) apart.

This is the first time that we have been able to see one of our satellites actually entering orbit. The images show that the Russian launch operators had accomplished an excellent job in managing a perfect deployment sequence." SNAP-1 was designed and built as a research mission by a joint academic-commercial team at the Surrey Space Centre and SSTL - funded entirely by SSTL. The objective of SNAP-1 is to demonstrate in orbit the capabilities of advanced, highly integrated nanosatellites and their use as autonomous robots for observing orbiting space vehicles.

In addition to the machine vision payload, SNAP-1 carries a miniature propulsion system, the size of a pencil, using butane. This is currently being used to manoeuvre the nanosatellite to rendezvous with the Chinese Tsinghua-1 microsatellite, now 40,000km away in orbit, during November.

Also on-board this tiny spacecraft are other miniature systems: a momentum wheel and magnetorquers for 3-axis attitude control; a GPS receiver for autonomous orbit determination; a 220 MHz 'StrongARM' 1100 on-board computer for housekeeping and high level vision functions; and an S-band communications system.

News of SNAP's success is spreading. At a recent conference on small satellites held in Utah, at which the first results of the SNAP mission were presented, the largely American audience expressed astonishment at this British achievement. "We can count ourselves fortunate that Britain still has some of the most innovative space engineers in the world," concluded Dr Underwood.