MARTIAN DRILLERS - PART ONE - PART TWO - PART THREE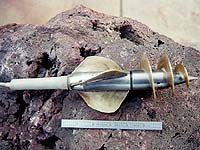 File photo of an early drill head for Mars subsurface exploration. NASA image

How To Drill On Mars From The Comfort Of Your Desktop On Earth
by Bruce Moomaw
Cameron Park - July 27, 2000 - Even if we succeed -- through orbital or aerial radar sounding -- in locating some spots on Mars where liquid water may be within a few dozen or a few hundred meters of the surface, we're left with the next stage of the problem: how do we drill down that far to reach it with unmanned rovers and landers at reasonable cost?

This boring problem (sorry) is not minor. Drilling is notoriously hard to do and filled with unforeseen problems, even with a manned crew -- as the last three teams of Apollo lunar astronauts can testify: they spent literally hours working to drill a mere three meters down into the Moon's surface and then heaving the resultant core samples back out of the ground.

In the case of Mars, we'll probably have to drill far deeper with a lightweight unmanned spacecraft -- using much less electrical power -- and we'll have to do so reliably. How?

Research so far indicates that the answer lies in a new approach to drilling. Instead of plunging an entire shaft deep down into the ground, the proper strategy is to use a detached, self-propelled underground vehicle -- a "mole" -- which may be quite lightweight, and which need use only enough power to propel itself downward, trailing a thin power and communications cable behind it.

One possible approach is to use heat. Such a device -- the "subterrene" -- was described in the Feb. 5, 1999 "Science".

It is an electrical resistor with a pointed ceramic tip which simply melts its way slowly through rock by heating it to over 1000 deg C, leaving behind an open shaft whose walls are lined with glassy melted rock.

If such a probe is small enough, it may use a sufficiently small amount of electrical power that it might be practical on an unmanned Mars lander. A variation on this technique is to tip the mole with a laser.

But it does have problems. Even at small sizes and low speeds, it will obviously require a considerable amount of electricity -- and it broils the soil and rock for several shaft diameters on either side of it to the point that it will not only be sterilized of any possible microbes, but extensively chemically changed.

Any such mole would have to have smaller sampling drills located on its sides that could extend a fair distance to obtain undamaged samples from beyond the heat-modified zone around the mole.

Another approach -- the currently favored one -- is to have the mole emit repeated mechanical shocks in order to chisel its way through the ground, a technique that doesn't chemically modify the underground material that comes into immediate contact with it.

In fact, the first underground drilling device scheduled for a Mars probe will use this technique. It's the "mole" on Britain's lightweight "Beagle 2" probe, which will (if enough funds can be found) be carried on Mars Express in 2003 to make an airbag-shielded landing on Mars and make a detailed hunt for chemical evidence of past or present life in the planet's rocks and soil.

Beagle's Russian-designed mole is a little pointed-end cylinder -- 33 cm long and 2 cm wide, weighing only 0.6 kg -- fastened by a 5-meter long tether to the end of Beagle's mechanical sampling arm, which can point it in different directions.

The mole then uses an electric motor to repeatedly pull back a sliding weight inside it, which is then repeatedly released and slammed forward by a spring to produce a hammering effect.

The mole uses only 2 watts of power, but can tunnel through loose soil at about one centimeter per minute, collecting small soil samples as commanded, before the tether is reeled back and pulls the mole out of the ground with its haul.

Its purpose is to retrieve samples of Mars soil so deeply buried that it may contain organic compounds that have not been broken down by the powerful oxidant chemicals which seem to be formed in Mars' upper soil layer by solar UV light (as discovered by the Viking landers).

Depending on the initial direction it's aimed, it can either drill downward, or crawl across the surface at 10 cm per minute until it hits a boulder, at which point it will automatically burrow under it. If it happens to jam irretrievably, the tether can be cut to free the arm for its other work.





Thanks for being here;
We need your help. The SpaceDaily news network continues to grow but revenues have never been harder to maintain.

With the rise of Ad Blockers, and Facebook - our traditional revenue sources via quality network advertising continues to decline. And unlike so many other news sites, we don't have a paywall - with those annoying usernames and passwords.

Our news coverage takes time and effort to publish 365 days a year.

If you find our news sites informative and useful then please consider becoming a regular supporter or for now make a one off contribution.


SpaceDaily Contributor
$5 Billed Once

credit card or paypal

SpaceDaily Monthly Supporter
$5 Billed Monthly

paypal only