ARE WE RARE - PART ONE - PART TWO - PART THREE - PART FOUR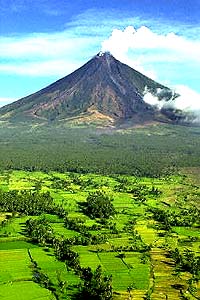 A steam cloud rises above the Mayon volcano crater 07 March 2000 as the mountain maintains its volcanic activity since its recent eruption on 24 February. Filipino authorities maintained the highest alert level for the volcano, keeping over 80,000 evacuees away from their homes, as lava continued to pour from the volcanic mountain. Photo by Romeo Gacad - Copyright AFP 2000

The Tectonics Of Life
by Bruce Moomaw
Cameron Park - May 2, 2000 - The only reason that Earth's volcanoes do keep releasing CO2 steadily is that the planet's crustal tectonics (sometimes called "continental drift") is slowly but continually dragging the accumulated carbonate rocks back down into Earth's molten interior, where they are broken down and re-release the CO2 they have stored.

But if a planet is so small that it lacks crustal tectonics (or, alternatively, enough volcanic eruptions to rebury the carbonate rocks under new lava flows, which would also drive them back down into the interior for recycling), once the planet's atmospheric CO2 has been converted into carbonates, it's gone for good.

This is exactly what happened to Mars -- which is desolate not because it's too far from the Sun, but because it's too small for such crustal recycling processes to operate.

Early in its history, its supply of CO2 was apparently converted into carbonates and lost for good.

Had the same thing happened to Earth, at its distance from the Sun its average temperature would be only minus 20 deg C -- and it would be a frozen iceball. (And, as Ward points out, we don't yet know all that much about what makes crustal recycling occur -- it's possible that a fairly minor difference in Earth's crustal composition could have prevented the process from occurring.)

To complicate matters further, James Kasting has pointed out that if Earth had been moderately closer to the Sun but not close enough to turn into a Venus-style runaway greenhouse, its increased silicate weathering rate would have turned all the free CO2 in its air and oceans into carbonates -- and so photosynthetic plants would have ben unable to appear on it, even though the temperatures would have been acceptable for them.

Moreover, there's another problem -- the planet's "obliquity" (the tilt of its spin axis).

Kasting and Darren Williams have recently calculated that if Earth's axial tilt was more than 40 degrees or so, there would be very bizarre effects indeed on its climate.

Because most of one hemisphere at a time would be in continual sunlight for months on end, the temperature of that pole would climb to grotesque levels -- perhaps over 80 deg C (176 deg F)! And the equatorial region would be exposed to so little total yearly sunlight that it would drop continually below freezing, so that Earth -- instead of having polar ice caps -- would have an equatorial ice belt. These ferocious seasonal differences in temperature wouldn't faze microscopic life, but they might interfere very seriously with the evolution of complex metazoans.

Several planetologists have established strong evidence over the past decade that the gravitational tuggings of Earth's large Moon play an important role in stabilizing Earth's axial tilt, which might otherwise rock through an angle of up to 90 degrees over cycles of tens of millions of years, producing long periods in its history in which these savage temperature differences would occur.

It is true that some planetologists think that, without the Moon's tides to slow down Earth's initial fast rotation, Earth might have stabilized itself anyway -- and in a Conference poster, Eugenio Rivera and his team repeated their conclusion from computer simulations that inner-planet collisions of the type that is thought to have broken off the Moon from Earth are not as rare as had been thought (it may happen to as many as one out of three terrestrial planets).

But if Earth's rotation had been stabilized at a high tilt angle, of course it would have had that ferocious weather throughout all its history rather than just some.





Thanks for being here;
We need your help. The SpaceDaily news network continues to grow but revenues have never been harder to maintain.

With the rise of Ad Blockers, and Facebook - our traditional revenue sources via quality network advertising continues to decline. And unlike so many other news sites, we don't have a paywall - with those annoying usernames and passwords.

Our news coverage takes time and effort to publish 365 days a year.

If you find our news sites informative and useful then please consider becoming a regular supporter or for now make a one off contribution.


SpaceDaily Contributor
$5 Billed Once

credit card or paypal

SpaceDaily Monthly Supporter
$5 Billed Monthly

paypal only