Taiwan will soon have direct access to US Spy Satellite data via a new ground station.

US Helps Taiwan Erect Satellite Spy Facility
Taipei (AFP) May 23, 2000 - The Taiwanese military is building a ground station to receive China data collected by US spy satellites, reports said Tuesday, as Taipei continued to monitor signs of mainland military movement.

Once armed with the satellite facility, Taiwan would be capable of receiving "real time" data on more than half the military establishments in the mainland, the Liberty Times quoted a military source as saying.

The defense ministry declined to comment on the report.

The daily said construction of the ground station in northern Taiwan was underway and scheduled for completion in early 2001. Software installation and tests would take about six months.

Taiwan and the US forged an agreement on the project earlier this year estimated to be worth 200 million Taiwan dollars (6.5 million US), it said.

Taiwan's defense ministry said Tuesday it was keeping a close watch on any military movement in the mainland in the wake of presidential elections here.

Tensions between Taipei and Beijing have risen since Chen Shui-bian of the pro-independence Democratic Progressive Party was elected president on March 18.

In his inaugural speech Saturday, Chen held out the possibility of a "future One China" incorporating Taiwan and the mainland, and stressed the the cultural and spiritual history the two shared.

Chen also said he was abandoning his pre-election vow to formally separate the island from the mainland, unless China tried to force reunification by invading.

China has regarded Taiwan as a breakaway province awaiting reunification since their separation in 1949 at the end of a civil war.

Copyright 2000 AFP. All rights reserved. The material on this page is provided by AFP and may not be published, broadcast, rewritten or redistributed. MILSPACE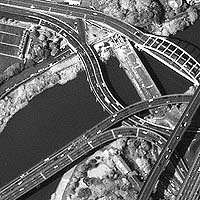 Example of an Ikonos one meter resolution image of Taipei - Image copyright Space Imaging Inc 2000

Taiwan Taps Into Private
US Spy Satellite
Tokyo - April 30, 2000 - The American commercial remote sensing satellite Ikonos has recently acquired very high resolution images of mainland China's eastern region, according to a Nikkei report filed from Washington, D.C. Saturday.




Thanks for being here;
We need your help. The SpaceDaily news network continues to grow but revenues have never been harder to maintain.

With the rise of Ad Blockers, and Facebook - our traditional revenue sources via quality network advertising continues to decline. And unlike so many other news sites, we don't have a paywall - with those annoying usernames and passwords.

Our news coverage takes time and effort to publish 365 days a year.

If you find our news sites informative and useful then please consider becoming a regular supporter or for now make a one off contribution.


SpaceDaily Contributor
$5 Billed Once

credit card or paypal

SpaceDaily Monthly Supporter
$5 Billed Monthly

paypal only