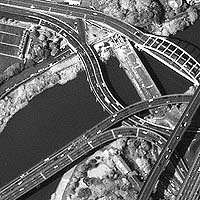 Example of an Ikonos one meter resolution image of Taipei - Image copyright Space Imaging Inc 2000

Taiwan Taps Into Private
US Spy Satellite
Tokyo - April 30, 2000 - The American commercial remote sensing satellite Ikonos has recently acquired very high resolution images of mainland China's eastern region, according to a Nikkei report filed from Washington, D.C. Saturday.

The report says that Ikonos photographed mostly missile and air force bases in eastern China in recent months. Taiwan was speculated to be the probable client who placed the order.

Space Imaging in Thornton, Colorado, operates the Ikonos satellite. The remote sensing satellite, launched on September 24, 1999, is capable of taking black and white images that can resolve objects as small as 1 meter across from its orbiting altitude of 680km.

Most of the photographed targets are in Fujian Province, which is the area closest to Taiwan. Some of the imaged targets include:
Dongfeng-21 guided missile base in southern Anhui Province.
Two military bases in Nanping and Yongan, both in Fujian Province, which participated in the Dongfeng-15 (or M9 by the export name) missile firing exercise during the 1996 Taiwan presidential election period.
Four ballisitic missile bases around Xianyou along the coast of Fujian Province. These bases were built to accomodate the Dongfeng-11 (M11) short-range missiles.
Two military bases in Fuzhou and Zhangzhou, both in Fujian Province.
Facilities in the Shamen International Airport in Fujian Province.
Sources told Nikkei that Ikonos took 19 images of seven targets. The images were all taken this year.

The first round of imaging took place near February 21, when China issued a White Paper on the "Taiwan Problem". The second round of imaging occured before and after March 18, the date of the recent presidential election in Taiwan. While a third batch of images were taken by Ikonos in the second half of this month.

Nikkei quoted their Washington sources who had close ties to Taiwan that in the event of a military conflict with China, Taiwan should be able to obtain intelligence from American military satellites. However, intelligence gathering with civilan satellites was also valuable for defense purposes.

The report said Space Imaging did not deny acquiring images of eastern China. But the company refused to disclose the client and number of images taken.

Ikonos

MILSPACE

Artificial "Eyelids" Protect SpySats From Lasers
Paris - March 15, 2000 - Spy satellites may soon be fitted with artificial "eyelids" to protect them from the blinding flash of enemy lasers, New Scientist reports in its upcoming issue on Saturday.
Thanks for being here;
We need your help. The SpaceDaily news network continues to grow but revenues have never been harder to maintain.

With the rise of Ad Blockers, and Facebook - our traditional revenue sources via quality network advertising continues to decline. And unlike so many other news sites, we don't have a paywall - with those annoying usernames and passwords.

Our news coverage takes time and effort to publish 365 days a year.

If you find our news sites informative and useful then please consider becoming a regular supporter or for now make a one off contribution.


SpaceDaily Contributor
$5 Billed Once

credit card or paypal

SpaceDaily Monthly Supporter
$5 Billed Monthly

paypal only