Missile Shield Faces Glitches and Delays
by Carlos Hamann
Washington (AFP) August 9, 2000 - The rush to meet an unrealistic deadline resulted in technical glitches that are now likely to put the controversial US missile shield behind schedule, missile defense analysts said here Wednesday.

After months of denying any major problems with the proposed National Missile Defense (NMD) program, the Pentagon recently began to suggest it might not be ready to deploy the system by the 2005 target date because of technical problems.

Planners want 20 anti-missile interceptors ready by 2005, the earliest date US officials believe North Korea will be able to deploy missiles powerful enough to target parts of Alaska and Hawaii.

The NMD system is designed to shoot down incoming long-range missiles fired from countries with 'limited' capability such as North Korea, Iran and Iraq.

Russia and China are strongly opposed to the program, arguing it would tilt the nuclear balance of power in Washington's favor. Many US allies fear the NMD could trigger a new global arms race.

But aside from the diplomatic brouhaha, it seems increasingly unlikely that the missile system will be ready for deployment any time soon.

The Pentagon is publicly sticking to its target date, but has dropped hints that a delay is possible: Secretary of Defense William Cohen has delayed handing in his reccomendation on the program to President Bill Clinton, and on Tuesday Pentagon spokesman Kenneth Bacon cited a string of technical problems with the NMD interceptors.

That was the first public admission that the program is having technical problems, said David Wright, a specialist with the Union of Concerned Scientists.

The problems are probably due to poor quality control "because of the unrealistic timeline," Wright said. "It's not a big surprise" that these problems are surfacing, he said.

Engineers are behind in reviewing data from the failed July 7 test, in which an anti-ballistic missile failed to hit a test incoming enemy missile, Bacon said. It was the second failiure of three tests.

The engineers know the test failed because the explosive tip of the missile did not separate from its rocket booster and failed to hit the incoming test missile.

However "we don't know exactly why that happened ... (and) haven't figured out how to respond to it," Bacon said.

Bacon also said that contractors are at least eight months behind in producing a new and improved booster for the interceptor missiles.

The whole system -- including the new missiles and upgraded radars -- have to be ready and tested before the NMD can be declared operational, said Christopher Hellman, an analyst at the Center for Defense Information, a Washington-based think tank.

"This program is being rushed ahead at a pace that even some suporters believe is too quick," Hellman said. "It is not only prudent, it is necessary to slow it down."

For Hellman, the list of technical glitches is "a way to tell they public that they want to delay making a decision" on deploying the system.

Loren Thompson, a missile defense expert at the conservative Lexington Institute, believes Clinton let the next president, who takes over in January 2001, make the tough decision on deploying the missiles.

But the new president might completely revamp the program by designing it to target enemy missiles in their vulnerable "boost phase" after they are launched, causing possiible further delays, Thompson said.

Copyright 2000 AFP. All rights reserved. The material on this page is provided by AFP and may not be published, broadcast, rewritten or redistributed. SPACEWAR.COM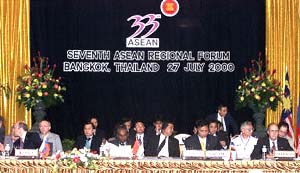 China, Russia and India Take Aim At US Missile Shield
by Dan Eaton
Bangkok (AFP) July 27, 2000 - Russia and India took aim at the United States at an Asian security forum here Thursday, saying its missile defence program and "Cold War mentality" threatened regional stability. Foreign ministers from the three nuclear states singled out the US Theatre Missile Defence (TMD) program for stinging attacks ahead of the arrival at the Bangkok talks of Secretary of State Madeleine Albright.
Thanks for being here;
We need your help. The SpaceDaily news network continues to grow but revenues have never been harder to maintain.

With the rise of Ad Blockers, and Facebook - our traditional revenue sources via quality network advertising continues to decline. And unlike so many other news sites, we don't have a paywall - with those annoying usernames and passwords.

Our news coverage takes time and effort to publish 365 days a year.

If you find our news sites informative and useful then please consider becoming a regular supporter or for now make a one off contribution.


SpaceDaily Contributor
$5 Billed Once

credit card or paypal

SpaceDaily Monthly Supporter
$5 Billed Monthly

paypal only