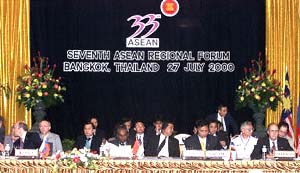 (L-R) Russian Foreign Miniser Igor Ivanov, Singapore Foreign Minister S. Jayakumar, Thai Foreign Minister Surin Pitsuwan and US Assistant Secretary of State Strobe Talbott attend the 7th ASEAN Regional Forum in Bangkok 27 July 2000. Foreign ministers of Asia's top security forum, with North Korea making its debut appearance, met to discuss the political crisis in Fiji, missile defence, Indonesia's woes and the regional drug scourge. Photo by Hoang Dinh Nam - Copyright AFP 2000

China, Russia and India Take Aim At US Missile Shield
by Dan Eaton
Bangkok (AFP) July 27, 2000 - Russia and India took aim at the United States at an Asian security forum here Thursday, saying its missile defence program and "Cold War mentality" threatened regional stability.

Foreign ministers from the three nuclear states singled out the US Theatre Missile Defence (TMD) program for stinging attacks ahead of the arrival at the Bangkok talks of Secretary of State Madeleine Albright.

"A Cold War mentality is still affecting the way some countries perceive world politics and international relations," Chinese Foreign Minister Tang Jiaxuan said in a speech at the opening session of the ASEAN Regional Forum.

"Some people are hawking the Theatre Missile Defence program against the tide of our times," he said, referring to the American ballistic defence system planned for northeast Asia.

"Such developments are compromising regional confidence building and aggravating the instability of regional security."

His Russian counterpart Igor Ivanov fired a broadside of his own, saying US moves to develop and deploy the regional anti-missile shield and a similar national system risked sparking a new global arms race.

"The US plan to develop the National Missile Defence is a matter of deep concern," he told delegates from 22 nations and the European Union, adding the TMD was equally worrying.

"As a result, further strategic offensive arms reduction would become impossible and the entire system of arms reduction and limitation agreements would be revised (and) would inevitably lead to a new arms race."

Indian External Affairs Minister Jaswant Singh also expressed his country's opposition, delegation spokesman Raminder Jassal told reporters.

"We are against the militarisation of outer space and any steps that could lead to a cascading effect in terms of an arms race," he said.

Albright's deputy Strobe Talbott, standing in for the secretary whose arrival was delayed by the Middle East peace talks, tried to deflect the criticism.

"The positions of both sides are well known," he said.

The ASEAN Regional Forum -- Asia's only security working group -- met here Thursday with North Korea as a member for the first time.

The North's Foreign Minister Paek Nam-Sun spent much of the day in bilateral meetings and is scheduled to hold an historic meeting with Albright on Friday.

North Korea has in the past warned it will increase its arms build-up to cope with a US regional missile defence system, denouncing its development as a "reckless criminal act."

The US says the system is designed to protect Japan and Washington's other Asian allies from any missile attack from "rogue states," in which it includes North Korea.

Other delegates Thursday also expressed opposition to the TMD program, host Thailand said.

"Nobody spoke in support (of TMD), but the American representative promised to bring the sentiment, the expression of concern, back to where the decisions are being made," Thai Foreign Minister Surin Pitsuwan said.

Australia, a key US ally in the region, declined to be drawn into the debate, saying it was too early for it to take a stand.

"It's perfectly well known that Russia and China oppose missile defence. It is perfectly well known the US is working on this system. Everyone knows what their positions are," Alexander Downer said.

ASEAN groups Brunei, Cambodia, Indonesia, Laos, Malaysia, Myanmar, the Philippines, Singapore, Thailand and Vietnam.

The ARF also includes Australia, Canada, China, the European Union, India, Japan, Mongolia, New Zealand, North Korea, Papua New Guinea, Russia, South Korea, and the United States.

Copyright 2000 AFP. All rights reserved. The material on this page is provided by AFP and may not be published, broadcast, rewritten or redistributed. SPACEWAR.COM

US Must Protect Against Missile "Threat": Cohen
by Carlos Hamann
Washington (AFP) July 25, 2000 - The United States must step up efforts to defend against threats from nations that may acquire weapons of mass destruction and long-range missiles, US Defense Secretary William Cohen told lawmakers Tuesday.
Thanks for being here;
We need your help. The SpaceDaily news network continues to grow but revenues have never been harder to maintain.

With the rise of Ad Blockers, and Facebook - our traditional revenue sources via quality network advertising continues to decline. And unlike so many other news sites, we don't have a paywall - with those annoying usernames and passwords.

Our news coverage takes time and effort to publish 365 days a year.

If you find our news sites informative and useful then please consider becoming a regular supporter or for now make a one off contribution.


SpaceDaily Contributor
$5 Billed Once

credit card or paypal

SpaceDaily Monthly Supporter
$5 Billed Monthly

paypal only