A payload launch vehicle carrying a prototype interceptor is launched from Meck Island in the Kwajalein Missile Range on Jan. 18, 2000, for a planned intercept of a ballistic missile target over the central Pacific Ocean. The target vehicle, a modified Minuteman intercontinental ballistic missile, was launched from Vandenberg Air Force Base, Calif., at 6:19 p.m., PST, and the vehicle carrying the prototype interceptor was launched about 20 minutes later. The intercept was not achieved. The test was performed by the Ballistic Missile Defense Organization's National Missile Defense Joint Program Office. Defense and industry program officials will conduct an extensive review of the test results to determine the reason for not achieving an intercept. DoD photo.

US missile defense critic said Pentagon agents tried to silence him
by Jim Mannion
Washington (AFP) June 26, 2000 - A university professor who revealed that test data show a crucial flaw in the proposed US national missile defense (NMD) system said Monday he was visited by Pentagon security agents in what appeared to be a clumsy attempt to silence him.

The Pentagon said the Defense Security Service agents were merely seeking Massachusetts Institute of Technology (MIT) professor Theodore Postol's cooperation in determining how classified information got into his detailed critique of the missile defense system.

In a telephone interview with AFP, Postol scoffed at the Pentagon explanation.

"There's no way any of this can be cast in terms that makes sense except that it was an attempt to entrap and to try to intimidate me," he said.

He said three agents appeared unannounced at his MIT office on June 21, took him into a seminar room, closed the doors, and produced a letter stamped "secret" for him to read.

Taken aback, Postol refused, he said.

If the letter contained his own critique of the NMD system but was classified as "secret", the Pentagon could say that he was violating secrecy rules by talking about it, said Postol, a former navy science advisor with top secret clearances.

He said the agents refused to say who the letter was from or what it was about, but indicated in their comments that it was related to a letter Postol sent the White House in May about NMD.

Postol's May 11 letter caused a sensation by accusing the Pentagon of rigging NMD tests to hide that the system cannot distinguish a warhead from a decoy.

Postol said the Ballistic Missile Defense Organization's own test data showed that warheads and decoys had no distinguishing light signals that could be used to tell them apart in space.

The letter included several attachments with an analysis of data that had been released as part of a lawsuit brought by a former employee of TRW Inc, which was involved in the development of an early interceptor.

The Pentagon declared the attachments classified even though by then they had been posted on the Internet.

A Pentagon spokesman said the Defense Security Service had been trying to get in touch with Postol since June 8 to question him on how he obtained classified information that was contained in the attachments to the letter to the White House.

"On June 21 after being unable to make telephone contact, DSS agents did go to MIT to seek his cooperation," said Pentagon spokesman Bryan Whitman, who would not discuss the secret document presented to Postol.

"The purpose of the DSS review was to determine if classified information was compromised, and if so how it occurred," he said.

"He is not a subject of any investigation, nor did anyone attempt to intimidate Dr. Postol. The DSS was just seeking his cooperation," Whitman said.

Postol said Arthur Money, assistant secretary of defense for command, control, communications and intelligence, told him the agents were simply following standard procedure.

"This is not a standard procedure," said Postol. "Three agents don't show up unannounced, drag you into a room, close all the doors, and tell you you have to read this classified document."

"It does have the appearance of a clumsy and heavy handed attempt at intimidation," he said.

ABMDAILY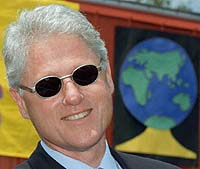 Clinton To Decide On Missile Defense By Fall
Washington (AFP) June 21, 2000 - US President Bill Clinton is to make a decision on whether to build a national missile defense system (NMD) by the fall, a White House spokesman said Wednesday.
Thanks for being here;
We need your help. The SpaceDaily news network continues to grow but revenues have never been harder to maintain.

With the rise of Ad Blockers, and Facebook - our traditional revenue sources via quality network advertising continues to decline. And unlike so many other news sites, we don't have a paywall - with those annoying usernames and passwords.

Our news coverage takes time and effort to publish 365 days a year.

If you find our news sites informative and useful then please consider becoming a regular supporter or for now make a one off contribution.


SpaceDaily Contributor
$5 Billed Once

credit card or paypal

SpaceDaily Monthly Supporter
$5 Billed Monthly

paypal only