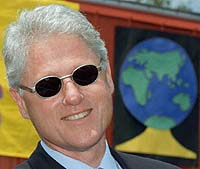 which one is thinking
Photo by Paul J. Richards - Copyright AFP


Clinton To Decide On Missile Defense By Fall
Washington (AFP) June 21, 2000 - US President Bill Clinton is to make a decision on whether to build a national missile defense system (NMD) by the fall, a White House spokesman said Wednesday.

"He will make his decision on deployment later this year after receiving a recommendation from the secretary of defense," spokesman PJ Crowley told reporters.

Clinton will base his decision of four criteria, "threat, cost, technical feasibility and overall impact on our national security, including arms control," Crowley added.

The national missile defense system under development by the United States is designed to hit a missile with a missile in space by using early warning satellites, radars and computers to guide the interceptor missile to its target.

The spokesman's statements countered a New York Times report Wednesday that Clinton was manoeuvring to avoid deciding whether to build the NMD, hoping to leave the controversial decision to the next administration.

Citing unnamed officials, the Times said the Clinton administration and military officials had begun emphasizing that the president in coming months needs only to decide whether an NMD was feasible -- not whether to go forward with deployment and break the Anti-Ballistic Missile (ABM) Treaty of 1972.

Russia is fiercely opposed, warning the move would trigger a new arms race.

And Clinton wants to avert a diplomatic and political crisis and avoid having the breaking of the 1972 ABM Treaty become part of his legacy, the Times said.

Accordingly, White House lawyers have drafted arguments to allow the president to decide merely on whether to grant preliminary approval for beginning work on the NMD's first phase, the Times said.

More binding decisions, on building a radar station on Shemya Island in Alaska and actually deploying interceptor missiles, would be left for Clinton's successor in the White House, according to the report.

But US undersecretary of defense for acquisition and technology, Jacques Gansler pointed out that in order to have a power plant and radar in that area on schedule, decisions would have to be taken soon.

"If we're going to make the 2005 date, we are required to start the construction in the summer of 2001, and therefore we need to make a contract to do that, probably in this calender year," Gansler said.

On Tuesday, Gansler suggested that the Pentagon could recommend going forward with beginning stages of development even if its next test of the system is not completely successful.

Defense officials have played down the chances of a successful intercept in the July 7 test but Gansler said that even if it fails, the Pentagon may gave it a passing grade.

ABMDAILY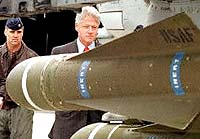 Clinton Gets ABM Treaty And Deployment Options Spelled Out
Washington (AFP) June 15, 2000 - President Bill Clinton has been given a new legal opinion on how far work on a National Missile Defense (NMD) radar in Alaska can go before violating the 1972 ABM treaty, spelling out the president's options, US defense officials said Thursday.
Thanks for being here;
We need your help. The SpaceDaily news network continues to grow but revenues have never been harder to maintain.

With the rise of Ad Blockers, and Facebook - our traditional revenue sources via quality network advertising continues to decline. And unlike so many other news sites, we don't have a paywall - with those annoying usernames and passwords.

Our news coverage takes time and effort to publish 365 days a year.

If you find our news sites informative and useful then please consider becoming a regular supporter or for now make a one off contribution.


SpaceDaily Contributor
$5 Billed Once

credit card or paypal

SpaceDaily Monthly Supporter
$5 Billed Monthly

paypal only