Now we're all friends lets get hold of some of that US missile technology while the going's good. Photo by Wolfgang Kumm - Copyright AFP Photos

Putin Proposes Pan-Euro ABM Center For Moscow
Berlin (AFP) June 16, 2000 - Russian President Vladimir Putin proposed on Friday that the European Union join Russia and the United States in creating an anti-missile defence centre in Moscow.

Speaking alongside German Chancellor Gerhard Schroeder in Berlin, Putin explained that he had initially proposed to the United States the setting up of a joint anti-missile control centre as an alternative to the controversial US plan to build an anti-missile system of its own.

"I proposed to Chancellor Schroeder that he speak to his partners and to tell them that Russia would like to see representatives of the unified Europe come in as third partners," he said.

The Russian proposals have been prompted by a controversial US plan to set up a national anti-missile defence shield, or NMD, to which both Russia and Germany are strongly opposed on the grounds that it could spark a new arms race.

Schroeder said Putin's anti-missile defence ideas were "proposals that merit attention."

He went on to say Russia should be associated with the organisation of European defence and security entities, saying there could be no peace on the continent unless Moscow was included.

"In the long term, there can be no peace in Europe if Russia is not included," Schroeder said at the joint news conference on the second day of the Russian leader's visit to Germany.

Schroeder said Russia must be integrated with Europe, not only economically and politically, but also in the domain of defence and security.

The German chancellor, who gave an informal dinner for the Russian leader in restricted company in his Berlin villa Thursday evening, said the two men discussed the 1972 anti-ballistic missile (ABM) treaty between Russia and the United States.

Russia and other critics of the US anti-missile plan say it would violate the ABM.

Alluding to the NMD, Schroeder said he and Putin agreed that their governments had a responsibility to safeguard the ABM treaty.

Putin added that the two men also discussed the future role of the United Nations.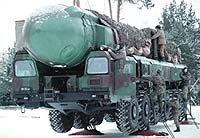 A Russian Topol-M missile

Russia Piques US Interest In Boost Phase Technology
by Jim Mannion
Washington (AFP) June 14, 2000 - Russia hinted in talks in Moscow that it has a "boost phase" missile defense system under development, piquing US interest in a Russian proposal to work together, a senior US defense official said.





Thanks for being here;
We need your help. The SpaceDaily news network continues to grow but revenues have never been harder to maintain.

With the rise of Ad Blockers, and Facebook - our traditional revenue sources via quality network advertising continues to decline. And unlike so many other news sites, we don't have a paywall - with those annoying usernames and passwords.

Our news coverage takes time and effort to publish 365 days a year.

If you find our news sites informative and useful then please consider becoming a regular supporter or for now make a one off contribution.


SpaceDaily Contributor
$5 Billed Once

credit card or paypal

SpaceDaily Monthly Supporter
$5 Billed Monthly

paypal only