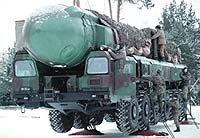 A Russian Topol-M missile

Russia Piques US Interest In Boost Phase Technology
by Jim Mannion
Washington (AFP) June 14, 2000 - Russia hinted in talks in Moscow that it has a "boost phase" missile defense system under development, piquing US interest in a Russian proposal to work together, a senior US defense official said.

US Defense Secretary William Cohen voiced doubts about the Russian "boost phase" proposal after his talks in Moscow with Russian leaders but said the United States wants to explore the idea further.

"There are a host of issues surrounding that, but we are interested in exploring boost phase technology," Cohen told reporters in Moscow Tuesday before heading to Hong Kong for a private visit on his way home to Washington.

Russia also proposed working with the United States on theater missile defenses against shorter range missiles and on political initiatives aimed at curbing the spread of long-range ballistic missiles.

The talks produced no breakthroughs in a US-Russian impasse over Moscow's refusal to amend the 1972 ABM treaty to allow deployment of a limited US national missile defense system.

Russian Defense Minister Igor Sergeyev acknowledged a "potential" threat of ballistic missiles in the hands of other countries, but said Russia differed with the US on its urgency.

The item that captured the keenest US interest, however, was Russia's idea for a "boost phase" missile defense, which in theory would involve intercepting a missile within minutes of launch by homing in on its fiery plume.

"They did seem to indicate they were talking about something they had under development," said Ted Warner, US assistant secretary of defense for strategy and threat reduction, adding that "it was not fully clear."

"That's why we need a follow up discussion on it," he told reporters traveling with Cohen in Moscow. "There were some comments that seemed to indicate they are pursuing development of a system of this type."

The US side proposed resuming talks June 25-26 when Pentagon experts meet with their counterparts in Moscow for a previously scheduled review of US-Russian military relations, Pentagon spokesman Kenneth Bacon said.

If the Russians agree, the talks will be expanded to include discussions of the "boost phase" proposal as well as an assessment of the missile threat, he said.

Separately, Russian Deputy Defense Minister Nikolai Mikhailov told visiting US congressmen that Moscow was prepared to share its plans for an S-500 air defense system for which it lacks funding, Representative Curt Weldon said.

Mikhailov "was very emphatic: we would love to work with the Americans on the S-500," said Weldon, an influential Republican voice on missile defense issues. "We ought to explore that."

He said the S-500 apparently would be a step more advanced than the S-400, a tactical missile defense system reputed to be as capable as the most advanced US Patriot anti-missile system.

But it was unclear whether the S-500 is envisioned as a boost phase interceptor, or as a more capable defense against shorter range missiles, he said.

Cohen, who met with Russian President Vladimir Putin, made clear that the United States would not consider a "boost phase" system as an alternative to a US national missile defense (NMD) system, only as a possible supplement.

The US system is designed to protect US territory by intercepting a few dozen missiles in space in mid trajectory.

President Bill Clinton is supposed to decide in the fall whether to order the system's deployment by 2005, when US intelligence estimates that North Korea will have a missile capable of reaching the United States.

In refusing to make needed amendments to the ABM treaty, Russia argues that NMD would upset the nuclear balance and ignite an arms race.

The Russians, on the other hand, maintain that their boost phase approach would comply with the ABM treaty -- a position that the US side disputes.

"So there are definitional issues that have to be worked out," Bacon said. "Both sides have agreed to sit down and try to work out these definitional issues."

The "boost phase" proposal also raises other unanswered questions, Cohen said: where would it be located, how would it be manned, who would control it, and could it be developed in time to meet the threat.

S-400 Page at Russian Weapons Catalog

ABMDAILY

Pentagon Floats ABM Tech Deal With Russia
by Jim Mannion
Washington (AFP) June 1, 2000 - The United States has proposed cooperation with Russia on theater missile defenses and early warning systems, senior US defense officials said Thursday, leaving open the possibility that it will also offer to share national missile defense technology with Moscow.
Thanks for being here;
We need your help. The SpaceDaily news network continues to grow but revenues have never been harder to maintain.

With the rise of Ad Blockers, and Facebook - our traditional revenue sources via quality network advertising continues to decline. And unlike so many other news sites, we don't have a paywall - with those annoying usernames and passwords.

Our news coverage takes time and effort to publish 365 days a year.

If you find our news sites informative and useful then please consider becoming a regular supporter or for now make a one off contribution.


SpaceDaily Contributor
$5 Billed Once

credit card or paypal

SpaceDaily Monthly Supporter
$5 Billed Monthly

paypal only