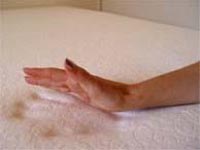 Tempur-Pedic Mattress Comparison & Memory Foam Mattress Review

..
Venus once featured oceans of carbon dioxide
Today, the surface of Venus is notoriously hellish - hot, dry and suffocated by a thick lower atmosphere of toxic gases. But Venus was once covered in oceans. The planet has likely always been too hot to host water, but new research suggests it once featured strange oceans of liquid carbon dioxide. ... more

..
NASA, Hot Air and Venus
Draft NASA plans for a human mission to Venus have spread virally though the mainstream media, and caused journalists in distant lands to contact this analyst for clarification. It's no wonder. NASA ... more

..
NASA theorizes a manned mission to Venus
The science world has been mostly fixated on Mars and comets, but some scientists at NASA are starting to talk about Venus - suggesting a manned mission to our closest neighbor could be simpler and less expensive than a trip to Mars. ... more

..
Venus Express goes gently into the night
ESA's Venus Express has ended its eight-year mission after far exceeding its planned life. The spacecraft exhausted its propellant during a series of thruster burns to raise its orbit following the ... more

..
Venus Express anomaly
On 28 November 2014, the flight control team at ESOC reported loss of contact with Venus Express. It is possible that the remaining fuel on board VEX was exhausted during the recent periapsis- ... more

..
Heavy Metal Frost On Venus
Venus is hiding something beneath its brilliant shroud of clouds: a first order mystery about the planet that researchers may be a little closer to solving because of a new re-analysis of twenty-yea ... more

..
Rediscovering Venus to Find Faraway Earths
Astronomers Chih-Hao Li and David Phillips of the Harvard-Smithsonian Center for Astrophysics want to rediscover Venus-that familiar, nearby planet stargazers can see with the naked eye much of the ... more

..
NASA Research Helps Unravel Mysteries Of The Venusian Atmosphere
Underscoring the vast differences between Earth and its neighbor Venus, new research shows a glimpse of giant holes in the electrically charged layer of the Venusian atmosphere, called the ionospher ... more