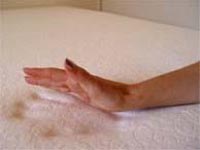 Tempur-Pedic Mattress Comparison & Memory Foam Mattress Review

..
New material helps record data with light
Russian physicists with their colleagues from Europe through changing the light parameters, learned to generate quasiparticles - excitons, which were fully controllable and also helped to record inf ... more

..
Giant Magellan Telescope will answer mnay major questions
The Giant Magellan Telescope (GMT), which is currently being built in Chile, is poised to answer essential questions about the universe, according to the newly appointed president of the organizatio ... more

..
'Peter Pan' radio galaxies that may never grow up
A team of astronomers has doubled the number of known young, compact radio galaxies - galaxies powered by newly energized black holes. The improved tally will help astronomers understand the relatio ... more

..
Dark Matter Detection Receives 10-Ton Upgrade
In an abandoned gold mine one mile beneath Lead, South Dakota, the cosmos quiets down enough to potentially hear the faint whispers of the universe's most elusive material - dark matter. Shielded fr ... more

..
Bevy of quasars boosts understanding of galaxies' origins
Late last year, an international team including researchers from the Kavli Institute for Astronomy and Astrophysics (KIAA) at Peking University announced the discovery of more than 60 extremely dist ... more

..
Iota Orionis: Pulsating beacon of a constellation
Astronomers from the BRITE (BRight Target Explorer) Constellation project and Ritter Observatory have discovered a repeating one-per-cent spike in the light of a very massive star which could change ... more

..
Cosmic environments and their influence in star formation
The scaffolding that holds the large-scale structure of the universe constitutes galaxies, dark matter and gas (from which stars are forming), organized in complex networks known as the cosmic web. ... more

..
Star clusters discovery could upset the astronomical applecart
The discovery of young stars in old star clusters could send scientists back to the drawing board for one of the Universe's most common objects. Dr Bi-Qing For, from the International Centre for Rad ... more