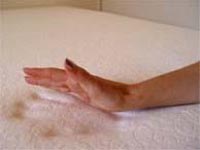 Tempur-Pedic Mattress Comparison & Memory Foam Mattress Review

..
Researchers demonstrate quantum teleportation of patterns of light
Quantum communication over long distances is integral to information security and has been demonstrated in free space and fibre with two-dimensional states, recently over distances exceeding 1200 km ... more

..
NASA using light to align the primary mirror segments of Webb Telescope
Engineers at NASA's Johnson Space Center in Houston used light waves to align the James Webb Space Telescope's mirror segments to each other, so they act like a single, monolithic mirror in the cryo ... more

..
Molecular motors: Slowing the clockwork
Progress on the way to smart nanomachines: Chemists of Ludwig-Maximilians-Universitaet (LMU) in Munich have modified the synthesis of a molecular motor so as to reduce the speed of its light-driven ... more

..
IceCube helps demystify strange radio bursts from deep space
For a decade, astronomers have puzzled over ephemeral but incredibly powerful radio bursts from space. The phenomena, known as fast radio bursts or FRBs, were first detected in 2007 by astrono ... more

..
New type of supercomputer could be based on 'magic dust' combination of light and matter
A team of researchers from the UK and Russia have successfully demonstrated that a type of 'magic dust' which combines light and matter can be used to solve complex problems and could eventually sur ... more

..
New Mirror-Coating Technology Promises Dramatic Improvements in Telescopes
Materials scientist Nobuhiko Kobayashi wasn't quite sure why the astronomer he met at a wine-tasting several years ago was so interested in his research, but as he learned more about telescope mirro ... more

..
Detecting cosmic rays from a galaxy far, far away
In an article published in the journal Science, the Pierre Auger Collaboration has definitively answered the question of whether cosmic particles from outside the Milky Way Galaxy. The article ... more

..
Oxygen-deficient dwarf galaxy hints at makings of early universe
A recently discovered dwarf galaxy in the constellation Lynx may serve well as a proxy for better understanding the developing chemistry of the early universe, according to a research team that incl ... more