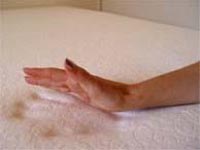 Tempur-Pedic Mattress Comparison & Memory Foam Mattress Review

..
ALMA hears birth cry of a massive baby star
Stars form from gas and dust floating in interstellar space. But, astronomers do not yet fully understand how it is possible to form the massive stars seen in space. One key issue is gas rotation. ... more

..
Galaxy Alignments Traced Back 10 Billion Years
A new study led by Michael West of Lowell Observatory reveals that the most massive galaxies in the universe have been aligned with their surroundings for the past ten billion years. It is the furth ... more

..
Failed Star Orbits a Dead Star Every 71 Minutes
An international team of astronomers using data from the rejuvenated Kepler space telescope have discovered a rare gem: A binary system consisting of a failed star, also known as a brown dwarf, and ... more

..
Jackpot! Cosmic magnifying-glass effect captures universe's brightest galaxies
Boosted by natural magnifying lenses in space, NASA's Hubble Space Telescope has captured unique close-up views of the universe's brightest infrared galaxies, which are as much as 10,000 times more ... more

..
Organic compound found in early stages of star formation
Scientists seeking to understand the origins of life have found a new organic compound in the material from which a star like the Sun is forming. Researchers from Queen Mary University of Lond ... more

..
CU Boulder researchers explain mystery of 'banging' galaxy clusters
Two galaxy clusters in the process of merging created a layer of surprisingly hot gas between them that University of Colorado Boulder astronomers believe is from turbulence caused by banging into e ... more

..
Celestial boondocks: Study supports the idea we live in a void
Cosmologically speaking, the Milky Way and its immediate neighborhood are in the boondocks. In a 2013 observational study, University of Wisconsin-Madison astronomer Amy Barger and her then-student ... more

..
Device designed to exploit scattering of light by mechanical vibrations
Researchers at the University of Campinas's Gleb Wataghin Physics Institute (IFGW-UNICAMP) in Sao Paulo State, Brazil, have theoretically developed a silicon photonic device that would enable optica ... more