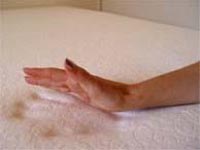 Tempur-Pedic Mattress Comparison & Memory Foam Mattress Review

..
Planned Maneuver Further Extends MESSENGER Orbital Operations
MESSENGER mission controllers at the Johns Hopkins University Applied Physics Laboratory (APL) in Laurel, Md., conducted a maneuver yesterday to raise the spacecraft's minimum altitude sufficiently ... more

..
New explanation for Mercury's dark surface
Peering into space, the surface of Mercury appears dark and unreflective, an observation that has long puzzled planetary scientists due to the planet's very low surface abundance of iron (less than ... more

..
Comet dust: Planet Mercury's 'invisible paint'
A team of scientists has a new explanation for the planet Mercury's dark, barely reflective surface. In a paper published in Nature Geoscience, the researchers suggest that a steady dusting of carbo ... more

..
MESSENGER Completes 4,000th Orbit of Mercury
On March 25, the MESSENGER spacecraft completed its 4,000th orbit of Mercury, and the lowest point in its orbit continues to move closer to the planet than ever before. The orbital phase of the MESS ... more

..
Hover Campaign Promises Bird's-Eye View of Mercury's Surface
MESSENGER will not go gentle into that good night. The mission will end sometime this spring, when the spacecraft runs out of propellant and the force of solar gravity causes it to impact the surfac ... more

..
New Mercury surface composition maps illuminate the planet's history
Two new papers from members of the MESSENGER Science Team provide global-scale maps of Mercury's surface chemistry that reveal previously unrecognized geochemical terranes - large regions that have ... more

..
Latest MESSENGER data includes new targeted mosaics of Mercury
NASA's Planetary Data System (PDS) has released data collected from the MErcury Surface, Space ENvironment, GEochemistry, and Ranging (MESSENGER) mission during its 37th through 42nd months in orbit ... more

..
Maneuver Delays Messenger's Impact, Extends Orbital Operations
MESSENGER mission controllers at the Johns Hopkins University Applied Physics Laboratory (APL) in Laurel, Md., successfully conducted a maneuver today designed to raise the spacecraft's minimum alti ... more