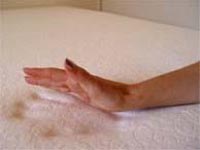 Tempur-Pedic Mattress Comparison & Memory Foam Mattress Review

..
Mercury featuring prominently in October skies
Mercury is set to join the planetary party being held in the predawn sky. For the last couple weeks, Mars, Jupiter and Venus have been congregating in the Northern Hemisphere's morning sky. ... more

..
Mercury's Movements Give Scientists Peek Inside the Planet
The first measurements of Mercury's movements from a spacecraft orbiting the planet reveal new insights about the makeup of the solar system's innermost world and its interactions with other planeta ... more

..
UK-built technology brings Europe's Mercury mission closer to launch
A UK-built instrument, designed to unlock the secrets of Mercury's surface, has been shipped from the University of Leicester's Space Research Centre to the European Space Agency where it will be in ... more

..
Mercury's core dynamo present early in planet's history
The Messenger spacecraft, which crash-landed into Mercury just a few days ago, found traces of magnetization in Mercury's crust, a new study reports. The presence of residual magnetization pro ... more

..
MESSENGER reveals Mercury's magnetic field secrets
New data from MESSENGER, the spacecraft that orbited Mercury for four years before crashing into the planet a week ago, reveals Mercury's magnetic field is almost four billion years old. The discove ... more

..
PSI Researchers Look Back at Mercury MESSENGER Accomplishments
As NASA's MESSENGER spacecraft ends its scientific operations by crashing into Mercury today, Planetary Science Institute researchers looked back at a mission that provided new discoveries on the pl ... more

..
NASA completes MESSENGER mission with surface impact
Mission controllers at the Johns Hopkins University Applied Physics Laboratory (APL) in Laurel, Md., confirmed today that NASA's MErcury Surface, Space ENvironment, GEochemistry, and Ranging (MESSEN ... more

..
Fire and Ice: A MESSENGER Recap
The planet closest to the Sun is, ironically, one of the coldest. That's just one of many mind-bending discoveries about Mercury that NASA's MESSENGER spacecraft beamed back to Earth over the past 7 ... more