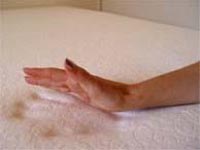 Tempur-Pedic Mattress Comparison & Memory Foam Mattress Review

..
Carbonaceous chondrites shed light on the origins of life in the universe
The meteorite samples analysed in this study come from NASA's Antarctic collection and derive from asteroids and, possibly, from comets. "Chondrites are non-differentiated meteorites, a legacy fossi ... more

..
Atlas of the RNA universe takes shape
As the floor plan of the living world, DNA guides the composition of animals ranging from unicellular organisms to humans. DNA not only helps shepherd every organism from birth through death, it als ... more

..
Scientists examine bacterium found 1,000 feet underground
Pioneering work being carried out in a cave in New Mexico by researchers at McMaster University and The University of Akron, Ohio, is changing the understanding of how antibiotic resistance may have ... more

..
ALMA finds compelling evidence for pair of infant planets around young star
Astronomers now know that our galaxy is teeming with planets, from rocky worlds roughly the size of Earth to gas giants bigger than Jupiter. Nearly every one of these exoplanets has been discovered ... more

..
Rings around young star suggest planet formation in progress
Rice University astronomers and their colleagues have for the first time mapped gases in three dark rings around a distant star. The rings mark spaces where planets are thought to have formed from d ... more

..
Who needs a body? Not these larvae, which are basically swimming heads
Graduate student Paul Gonzalez at Stanford University's Hopkins Marine Station recently became a hunter, breeder and farmer of a rare marine worm, all to fill in a considerable gap in our understand ... more

..
Meta musings on the origins of life
In 1953, the chemist Stanley Miller cracked open one of the deepest mysteries of science. Working under his mentor Harold Urey, Miller electrified a mixture of water vapor and gases thought to make ... more

..
ALMA measures size of seeds of planets
Researchers using the Atacama Large Millimeter/submillimeter Array (ALMA), have for the first time, achieved a precise size measurement of small dust particles around a young star through radio-wave ... more