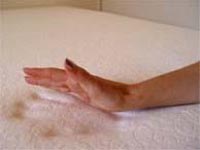 Tempur-Pedic Mattress Comparison & Memory Foam Mattress Review

..
New NASA study improves search for habitable worlds
New NASA research is helping to refine our understanding of candidate planets beyond our solar system that might support life. "Using a model that more realistically simulates atmospheric conditions ... more

..
From Comets Come Planets
Narrow dense rings of comets are coming together to form planets on the outskirts of at least three distant solar systems, astronomers have found in data from a pair of NASA telescopes. Estima ... more

..
A star that devoured its own planets
A devourer of worlds lurks around 350 light-years away. According to a recent study comparing the chemical composition of a pair of sunlike stars, one of the stars has consumed the rocky equivalent ... more

..
Astronomers find potential solution into how planets form
The quest to discover how planets found in the far reaches of the universe are born has taken a new, crucial twist. A new study by an international team of scientists, led by Stefan Kraus from ... more

..
Giant Exoplanet Hunters: Look for Debris Disks
There's no map showing all the billions of exoplanets hiding in our galaxy - they're so distant and faint compared to their stars, it's hard to find them. Now, astronomers hunting for new worlds hav ... more

..
New telescope attachment allows ground-based observations of new worlds
A new, low-cost attachment to telescopes allows previously unachievable precision in ground-based observations of exoplanets - planets beyond our solar system. With the new attachment, ground-based ... more

..
Are Self-Replicating Starships Practical
Science fiction has frequently considered self-replicating robots that travel across space, making copies of themselves as they spread throughout the galaxy. Such devices are formally known as "von ... more

..
Biomarker Found In Space Complicates Search For Life On Exoplanets
A molecule once thought to be a useful marker for life as we know it has been discovered around a young star and at a comet for the first time, suggesting these ingredients are inherited during the ... more