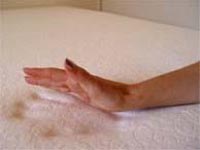 Tempur-Pedic Mattress Comparison & Memory Foam Mattress Review

..
Operation of ancient biological clock uncovered
Ten years ago, researchers discovered that the biological clock in cyanobacteria consists of only three protein components: KaiA, KaiB and KaiC. These are the building blocks - the gears, springs an ... more

..
Mutants in Microgravity
Bacteria may mutate more rapidly in space and scientists theorize patterns of those mutations could help predict how pathogens become resistant to antibiotics. Such predictions could, in turn, be us ... more

..
Enzyme-free krebs cycle may have been key step in origin of life on Earth
A set of biochemical processes crucial to cellular life on Earth could have originated in chemical reactions taking place on the early Earth four billion years ago, believes a group of scientists fr ... more

..
Could fast radio bursts be powering alien probes
The search for extraterrestrial intelligence has looked for many different signs of alien life, from radio broadcasts to laser flashes, without success. However, newly published research suggests th ... more

..
Visualizing debris disk "roller derby" to understand planetary system evolution
When planets first begin to form, the aftermath of the process leaves a ring of rocky and icy material that's rotating and colliding around the young central star like a celestial roller derby. Anal ... more

..
Protostar blazes bright, reshaping its stellar nursery
A massive protostar, deeply nestled in its dust-filled stellar nursery, recently roared to life, shining nearly 100 times brighter than before. This outburst, apparently triggered by an avalanche of ... more

..
Light From An Ultra-Cool Neighbor
This animation shows the amount of light detected by each pixel in a small section of the camera onboard NASA's Kepler space telescope. ... more

..
Kepler Provides Another Peek at Ultra-cool Neighbor
On Feb. 22, astronomers announced that the ultra-cool dwarf star, TRAPPIST-1, hosts a total of seven Earth-size planets that are likely rocky, a discovery made by NASA's Spitzer Space Telescope in c ... more