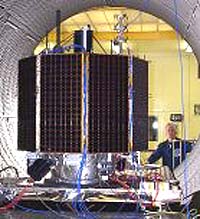 The 350 kg UoSAT-12 is the largest, most advanced, satellite yet built by Surrey Satellite Technology (SSTL), and marks the company's latest step towards providing reliable and affordable access to space. During its five year design life, the minisatellite is intended to demonstrate advanced microwave digital communications and Earth observation payloads. It also carries novel propulsion, attitude control, and navigation experiments. These include a communications payload for Merlion Communications (Nanyang Technological University, Singapore) and an attitude determination payload, developed in collaboration with the European Space Technology Centre in The Netherlands, which uses Global Positioning System satellites.

NASA Turns On First Internet Node In Space
Greenbelt - May 5, 2000 - NASA has demonstrated the ability to use standard Internet protocols to communicate with an orbiting spacecraft just like any other node on the Internet.

Engineers with NASA's Goddard Space Flight Center (GSFC) Operating Missions as Nodes on the Internet (OMNI) project, working with the UoSAT-12 spacecraft from Surrey Satellite Technology Ltd. (SSTL), recently completed the first step in extending Internet access to future spacecraft.

On April 10, 2000, engineers from the GSFC in Greenbelt, Maryland, sucessfully used standard Internet PING packets to communicate with the UoSAT-12 spacecraft through a ground station in Surrey, England.

Satellites have been used to provide communication services to support the Internet for over 20 years. However, those services only consisted of providing simple delivery of data bits.

This is the first time that a spacecraft ever had its own Internet address and was a fully RFC-compliant active node on the Internet.

One of the goals of the OMNI project is to demonstrate the use of standard Internet protocols and technologies to support NASA's goals of "faster, better, cheaper" missions.

This also enables new, innovative future mission concepts such as collaborative observations from multiple spacecraft.

The UoSAT-12 spacecraft was launched in April 1999 by SSTL without any Internet protocol support onboard. The necessary Internet protocol support software was prepared by the flight software developer, VyTek LLC of Pittsburgh, PA, and uploaded to the spacecraft. The software is running on one of two 80386 processors on the spacecraft.

The UoSat-12 spacecraft is based on SSTL's Mini Sat 400 series, which is listed in NASA's Rapid Spacecraft Development Office (RSDO) catalog as an available platform choice for current mission designers.

The only ground station modification required was to connect the transmitter/receiver data lines at the SSTL ground station to the wide-area network (WAN) port on a standard commerical Cisco router. This provided full Internet accessibility to the UoSAT-12 spacecraft from anywhere on the Internet. Common Internet security measures were implemented to restrict access to the spacecraft.

Subsequent tests will expand on the basic network capabilities established and will demonstrate the use of standard Internet applications to support normal spacecraft operations.

Automatic spacecraft clock synchronization will be demonstrated using the Network Time Protocol (NTP) and reliable file transfer will be demonstrated using standard File Transfer Protocol (FTP). Simple Mail Transfer Protocol (SMTP) will be used to demonstrate automated file store-and-forward.

Future tests are planned to incorporate the final technologies required to support full operational deployment of Internet protocols for future space missions. These tests will include Mobile IP, IP security mechanisms, and multicast data distribution.

The team implementing these tests consisted of engineers from Goddard Space Flight Center Information Systems Center , Computer Sciences Corporation, Surrey Satellite Technology, Ltd, and VyTek LLC of Pittsburgh.

This activity is being supported by the GSFC Information Systems Center (ISC), and the Communications Technology Project of NASA's Space Operations Management Office (SOMO).

Surrey Satellite Technology

INTERNET SPACE


The HS-702 is bringing even more capacity to the GEO Backbone

Battle For Cyberspace Moves Into Outerspace
by Rob Lever
Washington (AFP) April 24, 2000 - A battle is being waged in the trenches and in space for dominance of the high-speed Internet connections that millions of people are seeking for faster Web surfing and new applications like interactive TV.
Thanks for being here;
We need your help. The SpaceDaily news network continues to grow but revenues have never been harder to maintain.

With the rise of Ad Blockers, and Facebook - our traditional revenue sources via quality network advertising continues to decline. And unlike so many other news sites, we don't have a paywall - with those annoying usernames and passwords.

Our news coverage takes time and effort to publish 365 days a year.

If you find our news sites informative and useful then please consider becoming a regular supporter or for now make a one off contribution.
SpaceDaily Contributor
$5 Billed Once

credit card or paypal

SpaceDaily Monthly Supporter
$5 Billed Monthly

paypal only