Image by Boeing

US ABM Shield No Match For Russian Nukes
Washington - April 28, 2000
Russia would be able to annihilate the United States with hundreds of nuclear warheads even if it were attacked first and the proposed US missile defense system were in place, US negotiating documents published Friday assert.

The Bulletin of Atomic Scientists, which posted the documents on its website, said the documents were presented to Russia in January by US negotiators seeking changes in the 1972 Anti-Ballistic Missile (ABM). A change in the treaty would allow deployment of the first phase of a US national missile defense system.

The documents include a draft protocol modifying the treaty, as well as US talking points that explain the changes and responses to Russian concerns that the system would pose a threat to its nuclear deterrent.

The US anti-missile shield under consideration -- a site in Alaska with 100 interceptor missiles designed to defend against a limited "rogue state" attack -- would be able to knock out at most 20-25 warheads with comparatively primitive defense penetration aids, the document said.

A two-site system with 200 interceptor missiles could destroy 40 to 50 warheads, the document said.

"We do not think that reducing Russia's ability to counterattack by 20 to 50 warheads would substantially affect Russia's strategic deterrent, even at START III levels," the document said.

The proposed treaty protocol would allow a single site, 100-interceptor system to be deployed in Alaska, but would leave to future negotiations a second site with more interceptors.

A single site system would involve building a super high frequency radar in Alaska and upgrading five early warning radars -- at Clear, Alaska; Thule, Greenland; Fylingdales, Britain; Beale Air Force Base in California; and Ottis Air Force Base in Massachusetts.

Yet even with upgrades, the early warning radars will still not be accurate enough "to achieve effective defense against attack by more than a dozen warheads accompanied by the simplest defense penetration aids," the document said.

Even a large number of super high frequency radars, which Washington wants to deploy in the future, "would not be able to deal with an arsenal the size and sophistication that Russia would likely deploy under START III," according to the document.

Russia has suggested cutting US-Russian nuclear arsenals to as low as 1,500 warheads under START III, down from 3,000 to 3,500 warheads allowed under START II, which the Russian Duma approved April 15.

"These strategic forces give each side the certain ability to carry out an annihilating counterattack on the other side regardless of the conditions under which the war began," the document said.

"Forces of this size can easily penetrate a limited NMD system of the type that the United States is now developing," it said.

In the unlikely event of a nuclear first strike, Russia could deliver a minimum of a few hundred warheads in retaliation, the document said.

With tactical warning, Russia's response to a nuclear attack "would obviously be to send about a thousand warheads, together with two to three times more decoys, accompanied by other advanced defense penetration aids," the document said.

Copyright 1999 AFP. All rights reserved. The material on this page is provided by AFP and may not be published, broadcast, rewritten or redistributed. MILSPACE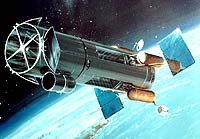 Turning swords into lasers

Megawatt Laser Test Brings Space Based Lasers One Step Closer
Redondo Beach - April 26, 2000 - In a demonstration of the rising maturity of high-energy lasers, TRW has conducted a test of the Alpha high-energy laser that produced a 25 percent increase in the laser's output power and improved its quality.





Thanks for being here;
We need your help. The SpaceDaily news network continues to grow but revenues have never been harder to maintain.

With the rise of Ad Blockers, and Facebook - our traditional revenue sources via quality network advertising continues to decline. And unlike so many other news sites, we don't have a paywall - with those annoying usernames and passwords.

Our news coverage takes time and effort to publish 365 days a year.

If you find our news sites informative and useful then please consider becoming a regular supporter or for now make a one off contribution.
SpaceDaily Contributor
$5 Billed Once

credit card or paypal

SpaceDaily Monthly Supporter
$5 Billed Monthly

paypal only