.

Russia launches three new navigation satellites: report

by Staff Writers

Moscow (AFP) March 1, 2010

A Russian Proton-M rocket was launched into space Monday with three new satellites for Moscow's GLONASS navigation system, aimed at competing with US and European systems, a report said.

The satellites were placed into orbit after the rocket blasted off from Russia's Baikonur launch pad in Kazakhstan at 2119 GMT, a Russian space agency spokesman said, according to the Ria-Novosti news agency.

The 1.4-tonne satellites join 22 others that are part of the GLONASS system, which fell into disrepair after the collapse of the Soviet Union but which Russia had hoped to restore completely by last year.

GLONASS was initially developed by the Russian military in the 1980s to compete with the US Global Positioning System (GPS), and will in the future face competition from Europe's Galileo.
Share This Article With Planet Earth
Related Links
GPS Applications, Technology and Suppliers
hello world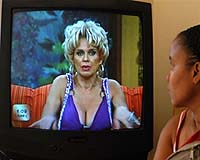 Rosum And Siano Take GPS Indoors Using TV Signals
Sunnyvale CA (SPX) Mar 02, 2010

Rosum Corporation has announced the launch of ALLOY, a revolutionary location and synchronization solution for indoor and urban environments. The ALLOY chip, which was developed in partnership with Siano, the leading supplier of Mobile Digital TV receiver chips for handsets, laptops, PNDs, and other mobile devices, utilizes broadcast TV signals to provide precise frequency, timing and loca ... read more

.