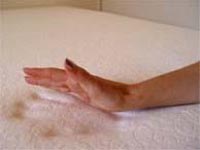 Tempur-Pedic Mattress Comparison & Memory Foam Mattress Review

..
World May Now 'Face a New Kind of a Space Race'
NASA's New Horizon team has officially submitted an extended-mission proposal for its spacecraft, after it had finished its primary mission on Pluto. In an interview with Radio Sputnik, David Mimoun ... more

..
New Horizons' First Science on a Post-Pluto Object
Warming up for a possible extended mission as it speeds through deep space, NASA's New Horizons spacecraft has now twice observed 1994 JR1, a 90-mile (145-kilometer) wide Kuiper Belt object (KBO) or ... more

..
Imaging the Encounter of a Lifetime
Jorge Nunez, a planetary scientist and engineer from the Johns Hopkins University Applied Physics Laboratory (APL), is the deputy systems engineer of the Long Range Reconnaissance Imager (LORRI) ins ... more

..
Hints of wandering planets in distant cometary belt
For the first time, astronomers have captured high-resolution imagery of the cometary belt surrounding HR 8799, the only star system with multiple planets that have been directly photographed. ... more

..
Dwarf Planet Haumea's Lunar System Smaller than Anticipated
Haumea, a dwarf planet on the edge of our solar system, doesn't have the same kind of moons as its well-known cousin Pluto according to a new study. This is despite original evidence that suggested ... more

..
Andre Brahic, discoverer of Neptune's rings, dies aged 73
French astrophysicist Andre Brahic, one of the discoverers of Neptune's rings, died in Paris Sunday at the age of 73, his publisher Odile Jacob said. ... more

..
Largest unnamed world in the solar system 2007 OR10
Dwarf planets tend to be a mysterious bunch. With the exception of Ceres, which resides in the main asteroid belt between Mars and Jupiter, all members of this class of minor planets in our solar sy ... more

..
Icy Hydra's highly reflective surface
NASA's New Horizons spacecraft has sent home the first compositional data about Pluto's four small satellites. The new data show the surface of Hydra, Pluto's outermost small moon, is dominated by n ... more