SpaceX And NASA Sign Cooperative Agreement On Human Spaceflight Development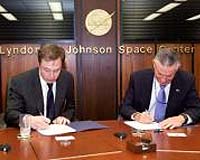 Elon Musk, CEO of SpaceX, and Jefferson D. Howell Jr., Director of NASA's Johnson Space Center, signing a Space Act Agreement on human space flight development.
Houston TX (SPX) Jun 03, 2005

Space Exploration Technologies Corporation (SpaceX) announced Thursday the signing of a Space Act Agreement with NASA regarding development of human spaceflight hardware. SpaceX and Johnson Space Center (JSC) will identify joint opportunities in pursuit of cost effective human spaceflight systems.

"This agreement provides a framework for working with NASA on future spaceflight needs in support of low Earth orbit space missions and other steps in the Vision for Space Exploration," said Elon Musk, CEO of SpaceX. "We look forward to working with NASA to create an exciting future in human spaceflight."

Space Act Agreements are flexible partnerships that allow NASA to work cooperatively with industry to develop and transfer technology in support of national priorities and NASA's mission. These agreements are collaborative R&D efforts that provide for an ongoing exchange of personnel, use of NASA facilities, expertise, equipment and technology.
Related Links

Space X
SpaceDaily
Search SpaceDaily
Subscribe To SpaceDaily Express

LockMart And Aerojet Complete Atlas V Block B Solid Rocket Booster Test


Sacramento CA (SPX) Jun 02, 2005

Lockheed Martin and Aerojet have successfully conducted the second test firing of the Atlas V upgraded Block B Solid Rocket Booster (SRB). The test firing was performed May 24 at Edwards Air Force Base, Calif.

Thanks for being here;
We need your help. The SpaceDaily news network continues to grow but revenues have never been harder to maintain.

With the rise of Ad Blockers, and Facebook - our traditional revenue sources via quality network advertising continues to decline. And unlike so many other news sites, we don't have a paywall - with those annoying usernames and passwords.

Our news coverage takes time and effort to publish 365 days a year.

If you find our news sites informative and useful then please consider becoming a regular supporter or for now make a one off contribution.


SpaceDaily Contributor
$5 Billed Once

credit card or paypal

SpaceDaily Monthly Supporter
$5 Billed Monthly

paypal only