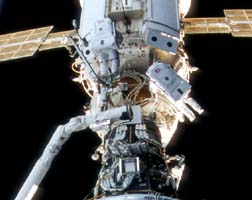 MDA Awarded ISS Robotics Contracts Worth $65M
Dulles - July 5, 2000 - MacDonald, Dettwiler, a subsidiary of Orbital Sciences was recently awarded two new contracts for its space robotics systems from the Canadian Space Agency and NASA with a total value of about $65 million.

The contracts are for ongoing engineering services and logistics support to ensure the appropriate functioning of MDA's space robotics systems, which are an important part of many Space Shuttle missions and will play a critical role in the assembly and operations of the International Space Station (ISS).

The CSA contract, valued at approximately $50 million over three years, provides for technical operations, sustaining engineering and logistics support for the Mobile Servicing System (MSS), Canada's primary contribution to the ISS.

The contract will encompass MDA's ground processing, launch and in-orbit operations support activities. The MSS, which will include the next-generation "Canadarm," will continue to service and maintain the ISS, following the assembly process, for 15 to 20 years.

The NASA contract, valued at approximately $15 million over two years, provides for engineering services for MDA's robotic workstation that will be installed aboard the ISS. This robotic workstation allows an astronaut to operate the MSS from the safety of the ISS and avoid the risks to humans posed by extravehicular space walks.

Orbital's MDA subsidiary is Canada's leading space and information systems company and is the world's primary supplier of space robotics technology. It employs approximately 1,700 people at major facilities in the Vancouver and Toronto areas, as well as at other Canadian and international locations.

Orbital Sciences

ROBOSPACE


Robots Could Build Lunar Power Plant
by Mark Schrope
Washington - June 25, 2000 - Imagine a rover that could make its way across the dull, lifeless rocks and dust of the Moon, leaving behind it a trail of solar cells capable of powering a Moon base. A group of NASA researchers thinks it can be done.
Thanks for being here;
We need your help. The SpaceDaily news network continues to grow but revenues have never been harder to maintain.

With the rise of Ad Blockers, and Facebook - our traditional revenue sources via quality network advertising continues to decline. And unlike so many other news sites, we don't have a paywall - with those annoying usernames and passwords.

Our news coverage takes time and effort to publish 365 days a year.

If you find our news sites informative and useful then please consider becoming a regular supporter or for now make a one off contribution.


SpaceDaily Contributor
$5 Billed Once

credit card or paypal

SpaceDaily Monthly Supporter
$5 Billed Monthly

paypal only