A few days ago a parcel arrived on my front porch. It contained a new high-intensity halogen reading lamp to replace one that died after 13 years of faithful service. When unpacked, it proved to have a sinister new feature: a six-inch-long steel loop thrusting menacingly downward from the bulb housing. The Safety Nannies had struck again!

We all know and fear the Safety Nannies. They lurk in government offices and "consumer protection" groups throughout the world. Their official goal is protect us from accidental death and injury. Their true program is the eugenic modification of the human race into food animals. They pursue this twisted dream through laws and regulations intended to stop natural selection, by preserving idiots who in past ages died of sheer stupidity before they could breed.

It was the Safety Nannies that made me stop visiting California. Even before they leave the airport boarding tubes at LAX, debarking passengers are confronted with big signs warning them against smoking anything but "medicinal marijuana", driving while drunk, and marrying their sisters.

Other Safety Nannies invented that kinky mechanism that automatically wraps you in a bondage harness when you enter a car, and then gave us exploding dashboard airbags. And now they have ruined the design purity of the classic gooseneck lamp.

I don't know what inspired these jackbooted thugs to impose the Steel Loop Rule on the lamp industry. Possibly a retarded child let his lamp fall down onto some inflammable paper and burned down an orphanage.

Most likely there was no such incident, and a Safety Nanny just thought up the Loop Rule while idly toying with a riding crop. But now, all high-intensity lamps must have a long ugly obstruction extending a mandated distance from the bulb, to protect idiots from placing flammable items or their thick heads too close.

We have our share of Safety Nannies in the space community too. They are the people who demand that space flight made as safe as commercial airplane travel, regardless of cost.

In general, they are not a threat. Certainly they are not as dangerous as the steely-eyed, square-jawed fanatics at the other end of the spectrum, who demand that we press on with the Space Shuttle regardless of losses and regard the growing astronaut body count as a positive sign of national virility and purpose.

But one group of Space Nannies has caused considerable confusion during our ongoing post-Columbia debate about Shuttle safety: the late and unlamented NASA Aerospace Safety Advisory Panel, a board of independent advisors established in 1967 at the initiative of one Congressman Donald Rumsfeld.

The ASAP had waged a long and inept struggle to persuade NASA to install a "full-capability" crew escape system in the Shuttle orbiter, which culminated in a contentious public meeting with Sean O'Keefe on March 26. The ASAP showed an astonishing lack of technical knowledge and political acumen during this event.

To understand how unworkable the Advisory Panel's solution is, you have to know that the ASAP's own definition of a "full-capability escape system" is one that works in all phases of flight -- including reentry!

This makes a good sound bite but such a system is just plain impossible. No manned spacecraft has ever met this unreasonable requirement, and none ever will. Launch escape can only reasonably be achieved by pulling the whole spacecraft away from a failing booster.

Unfortunately, the Shuttle's configuration makes this tradition method impossible (as was proven by numerous studies during its design phase). So the Space Nannies fell back on the concept of "bailing out" so familiar to airplane pilots.

The specific proposal presented by former pilot-astronaut Sid Gutierrez would shift the five Shuttle "passengers" into a escape capsule mounted in the Shuttle cargo bay and give the two "pilots" encapsulated ejection seats like those of the B-58 supersonic bomber.

The pilots would have only a slight chance of survival with this system. Any ejection seat based on the B-58 design is not going to work during most of reentry and a large part of ascent. Even for the much less demanding flight conditions of the B-58, only about half of the distressed crewmen who should have been saved by the encapsulated seat actually survived.

But the main escape capsule is almost as big a problem. This amounts to a whole second reserve spaceship, capable of surviving reentry at orbital velocity and making a soft landing on either sea or land.

Furthermore, it needs some system to separate it from the Shuttle orbiter (which is probably spinning out of control and breaking up) and also the External Tank (which is probably exploding). It is difficult to imagine how such a system could be made to work reliably.

Gutierrez presented some artist's concepts of this escape system, of which the most detailed is reproduced here. It demonstrates that the Space Nannies had not bothered to examine the idea in any detail, despite having loudly advocated it for at least 3 years.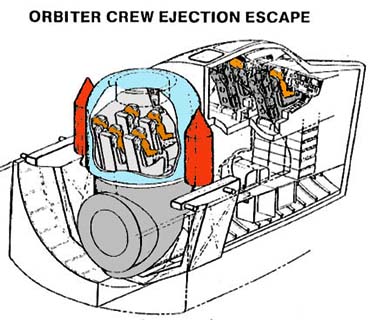 It is not entirely clear from this drawing if the blue escape capsule is intended to reenter 1) round end first or 2) flat end first. But either way, the design as shown has a fatal flaw: The crew couches are mounted in the standard airliner orientation, so that g-forces during normal Shuttle ascent are taken in the optimum direction (eyeballs-in).
But the much higher g-forces that will prevail after an abort are taken in the 1) eyeballs-up or 2) eyeballs-down direction, which will probably kill the astronauts as their brains either 1) fill up with blood and burst or 2) die from lack of blood which has all drained into their legs.
Also, how do you know WHEN to trigger those silly red skyrockets that blow the escape capsule out? In neither Challenger or Columbia was their any warning to either crew or ground controllers that would have justified pulling the D-ring and sacrificing 25% of the Orbiter fleet.
Clearly, this decision has to be made in milliseconds by a computer program, fed with data from a comprehensive suite of danger sensors (like the ones on Columbia that were uselessly feeding warning signs of the coming catastrophe into a tape recorder).
So the three surviving Orbiters (as well as the Ets and SRBs) will all have to be fitted with an extensive new wiring harness and numerous new black boxes -- which might interfere with existing systems and increase the danger of an accident.
It is hard to believe that an experienced test pilot and astronaut who has made two Shuttle missions could present such a fundamentally flawed proposal to NASA's top managers at a public meeting attended by the press.
But then it was hard to believe that those managers themselves could be as inept as the Columbia investigation has shown them to be. Working in the Shuttle program for even a few years seems to wreck the human brain even more effectively than excess g-forces.
However, even the most technically illiterate NASA manager could immediately see the more fundamental drawback to any system like this one: It steals a significant amount of the Shuttle's payload capacity and cargo bay volume.
The whole schedule for assembling and maintaining the ISS would be delayed even more, and the number of Shuttle flights per year needed to carry up NASA's share of the required supplies would rise upward from the already unsustainable level of 6 or 7 to perhaps 10 or 11.
Realistically, adopting the Space Nanny escape system would mean keeping the ISS as a 3-man station forever, or turning it into a mostly Russian program. Either one of these would be unacceptable to the US Congress and/or the other nations on ISS.
So the true expense (financial or political) of this "upgrade" would be much larger than the direct cost of designing, testing, and building the escape capsule. In fact, it would probably be less than designing a completely new passenger ferry spacecraft with proper safety features (which NASA is already doing in its usual clumsy and roundabout way under the OSP program).
But Safety Nannies like the ASAP never consider the financial and social costs of their decrees. Their tunnel vision is focused purely on reducing the number of accidents.
"Other people on other panels are paid to deal with the issues of cost, schedule, and international diplomacy that this project would raise, so why should we? It's not our job. We should propose the most perfect system we can devise and let others worry about finding the money for it."
But this classic Safety Nanny mode of thought led the ASAP seriously astray. By asking for a clearly impossible system, the ASAP discredited itself in the minds of the relevant decision-makers and insured that all of its other more sensible recommendations would also be ignored.
The Columbia Accident Investigation Board, led by a cadre of politically astute military flag officers, has adopted a more subtle system: Present many obvious and possible Shuttle fixes, which all appear reasonable when considered separately, but which add up to an impossible financial burden and will force NASA to finally get serious about a Shuttle replacement vehicle.
Actually, NASA was quite correct when it adopted the airline model of making crashes rare, instead of the military model of frequent ejections. Unlike fighter planes, each Orbiter is so expensive that a loss would be a national trauma even if the crew was saved.
However, the defective design of the Shuttle (especially its technical inheritance from one-shot military ICBMs that had a specified system reliability of only 60%), makes it impossible to operate in the airline manner -- at least at an acceptable price.
The massive army of Shuttle maintenance workers that was actually a political plus during the aerospace recession of the early 1970s has become intolerably expensive at the higher wage rates of the 2000s. During those thirty years, similar labor-intensive industries like steel and shipbuilding have migrated overseas but the Shuttle remains frozen in time, a monument to the Stagflation Decade.
In our modern world economy, the Shuttle could only be operated safely and affordably by outsourcing its maintenance to some place where technically trained people still earn low wages, like Bangalore.
Oh, remember that reading lamp? It turns out that a sharp tug on that ugly steel Safety Nannie loop causes it to pop right out! The Safety Nannies will probably close this loophole right after the next orphanage fire.
So tomorrow I plan to buy a dozen gooseneck lamps, remove their safety loops, seal them in thick plastic, and bury them at secret locations in the jungle. Like that National Reading Association bumper sticker says: "When reading lamps are outlawed, only outlaws will read."
Jeffrey F. Bell is Adjunct Professor of Planetology at the University of Hawai'i at Manoa. The opinions expressed in this article are his own, and do not represent the views of the University.