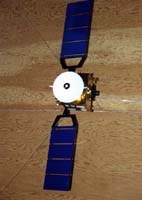 I'll be there with bells on

Mars Express Sets A Date With Nozomi When The Beagle Goes To Ground
Paris - April 18, 2000 - Mars Express is on target for production to start soon, while the science teams have begun forging links with ISAS, Japan's space science institute, which hopes to have its own spacecraft Nozumi in orbit about Mars soon after Mars Express arrives in 2003.

"We are following our schedule," Rudi Schmidt, Mars Express project manager, said last week at a science working team meeting attended mainly by scientists who are building payload instruments.

Project teams at Matra Marconi Space (MMS) Toulouse, the prime contractor, and at ESA's technical centre, ESTEC, are now at full strength and all sub- contractors have been appointed, said Schmidt.

Issues raised at the preliminary design review (PDR) at the end of last year (see earlier news story) have largely been resolved; and potential problems with on-board software have been avoided by reducing the inherent flexibility required of some of the spacecraft's housekeeping.

All payload instrument teams reported that they are now moving from the design phase, phase B, into the construction phase, phase C/D. They are on target for delivering EM models of their instruments to MMS after the summer, followed shortly by structural models (SM).

The EM models will be used to test the electrical interfaces of each instrument with the spacecraft and the SM models to test physical interfaces.

The meeting heard that a potential problem with vibration during launch disappeared with the first two test flights of the Soyuz-Fregat launcher.

"We had been concerned that vibration during launch would threaten the survival of some of the instruments," said Schmidt. "But the first two test flights went extremely well." Vibration levels were well below those originally given as an upper estimate by Starsem, the Russian-French launcher company.

Representatives from MMS went over the instrument testing procedures for the benefit of the instrument teams and a representative from ESOC, ESA's space operations centre in Darmstadt, Germany, summarised their progress and the capabilities of a software tool that will shortly be available to simulate the orbits of Mars Express around Mars.

The tool will help instrument scientists to plan when to turn their instruments on and off during each orbit.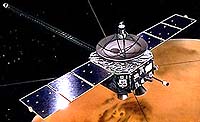 But will Nozumi turn up, after missing a previous date with Mars in 1999 due to engine problems

The teams are preparing to forge closer links with their counterparts in Japan, who are flying instruments on the Nozomi spacecraft which will arrive at Mars shortly after Mars Express.

Hajime Hayakawa from ISAS, the Japanese space agency, told the meeting that Nozomi will follow an equatorial orbit which will be complementary to Mars Express's polar orbit.

Nozomi's chief interest will be the upper atmosphere: its 14 instruments will record electron density and temperature profiles. Hayakawa proposed that a joint working team be set up and hold its first meeting in Japan in the autumn.

ISAS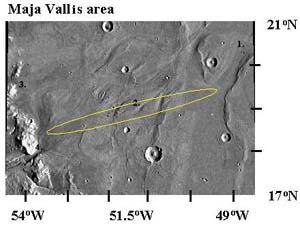 Maja Vallis area. The general pattern of flood and sediment passage towards the NE is clear from the streamlined landforms.

ESA Zeros In On Martian Kennel
London - January 30, 2000 - The Beagle 2 team has selected two potential landing sites on Mars for further study. In the latest issue of the Beagle 2 Bulletin, John Bridges from the Natural History Museum, London, who is leading the landing site study, writes: "The prospective areas are within the Chryse and Tritonis Lacus regions.
Thanks for being here;
We need your help. The SpaceDaily news network continues to grow but revenues have never been harder to maintain.

With the rise of Ad Blockers, and Facebook - our traditional revenue sources via quality network advertising continues to decline. And unlike so many other news sites, we don't have a paywall - with those annoying usernames and passwords.

Our news coverage takes time and effort to publish 365 days a year.

If you find our news sites informative and useful then please consider becoming a regular supporter or for now make a one off contribution.


SpaceDaily Contributor
$5 Billed Once

credit card or paypal

SpaceDaily Monthly Supporter
$5 Billed Monthly

paypal only