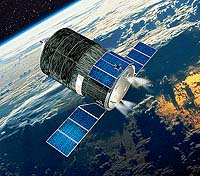 ATV to Mars: The ATV is like a super version of the Progress spacecraft operated by Russia. Launched by Ariane 5, it carries supplies to the International Space Station, boosts its orbit like a tugboat, and finally serves as a trash receptacle before it is sent plunging into the atmosphere. Itís large, robust, capable of executing velocity changes, and designed for rendezvous and docking. ESA Image

Mars Sample Return: The Medium-Lift Approach
by Morris Jones
Sydney - July 1, 2000 - When the Apollo program was instigated by President Kennedy, NASA immediately faced the dilemma of designing a suitable mission architecture. Several options were available, all of them with their respective merits and problems. There was Direct Ascent, where a huge rocket would simply lift an Apollo spacecraft to the moon and deposit it on the surface.

At the completion of their lunar explorations, the crew would simply fly straight back to Earth. Another plan was Earth Orbit Rendezvous, where several medium-range boosters would rendezvous in Earth orbit to assemble a complete lunar mission.

The winning plan, known as Lunar Orbit Rendezvous, involved a single launch of a large, but not impossibly huge, booster. To save on weight, a relatively light landing craft would touch down on the surface while a heavier transfer vessel remained in lunar orbit. The two craft would later rendezvous in lunar orbit before the Apollo command and service modules returned to Earth.

Debates over the best mission architecture for Apollo were intensive, and often quite heated. Fortunately, an appropriate solution for the time, budget and technology of the program was selected. Intensive planning paid off in a successful program.

Today, a similar debate is taking place over a longer time scale with regard to Mars Sample Return. There is no precise timeline for the mission, and no exact budget for it either. However, NASA is still interested in carrying out the project, despite its recent troubles in reaching Mars.

Schemes for Mars Sample Return have been circulating for decades, and several of them have been examined in reasonable detail by NASA. Many of them have parallels with the mission plans considered for Apollo, but the challenges are sometimes even greater.

The simplest option is essentially a direct ascent approach. A large, bulky lander touches down on the surface of Mars. It deploys rovers to scoop up rock samples, which are delivered to a large ascent vehicle resting atop the lander.

This rocket then blasts off from the surface for a direct return to Earth. It sounds simple, but the complexities of building such a large vehicle, getting it to the surface of Mars intact, and then launching something so large all the way back to Earth give engineers cause for concern. The cost of such a project would also be prohibitive by the current levels of funding allocated to planetary exploration.

The problems of direct ascent are slightly reduced by the possibility of manufacturing propellant for the return journey from the Martian atmosphere.

The principal advantage of this is a potentially large saving in the amount of mass that needs to be transported from Earth. Most plans for in-situ propellant production call for the vehicle to carry a modest supply of hydrogen to the planet.

After its arrival, a small refinery on board the lander will begin to break down carbon dioxide from the atmosphere, and react some of the carbon with the hydrogen. The result is a locally produced load of methane or some other hydrocarbon, which will serve as fuel.

This will be burned with locally produced oxidizer, which could either be pure oxygen refined from Martian air, or carbon monoxide. The ascent vehicle tanks itself up over a period of several weeks, then lifts off with its cargo.

NASA hopes to test in-situ propellant production on one of its future landers, but at the moment, itís difficult to say how or when it will fly.

At the other end of the spectrum, we have a more subtle approach thatís currently favoured by NASA. This involves the use of orbital rendezvous to minimize the amount of mass that needs to blast itself off the Martian surface, and has parallels to the Apollo strategy.

The lander is large, but still within the scope of current lander architectures that are being proposed. Samples are collected by rovers and loaded into the top of a small, solid-fuelled rocket known as the Mars Ascent Vehicle.

This modest rocket, comparable in size to an air-to-air missile, has only enough power to reach a low orbit around Mars. It places a small cache of samples in orbit, where they await collection.

Next, a larger orbital craft, probably supplied by France, searches for the sample cache and retrieves it in orbit. The orbital rendezvous craft then fires its motors for the return to Earth.

This strategy is elegant, but concerns about it are openly being expressed within the aerospace community. Will the crude ascent vehicle succeed in its task? Will a small, passive sample capsule be easily retrievable by a robot spacecraft thatís so far away from Earth? Can the samples be safely transferred between these different vehicles?

The decision to suspend NASAís frantic rush to retrieve samples by 2008 has given us breathing space. We can re-examine this plan, and also take the time to consider alternative architectures.

With this in mind, I propose a variation that incorporates elements of both the aforementioned schemes. My proposal, which I have dubbed the Medium-Lift approach, would also save money be re-using an existing orbital vehicle.

The Medium-Lift approach makes use of a rendezvous in Mars orbit, as proposed by the current NASA plan. However, the ascent vehicle would be much larger than the current design.

The lander would be halfway in mass between the current NASA design and the sort of vehicle that would be used on a direct ascent mission. It could be possible to launch such a vehicle on an augmented Ariane 5, or another future heavy lift vehicle.

Alternatively, if a direct launch to Mars is not possible, an Earth-orbit rendezvous could be staged between the lander and a booster stage launched separately.

The lander would touch down on Mars and begin its tasks of collecting samples. This could be done with rovers deployed by the sample return lander, or by landers that have touched down on previous missions. An advanced rover on a long-duration trek could travel several kilometres from its landing site to deliver samples to the return vehicle.

This would allow a variety of samples to be collected from a wide area. While sample collection is taking place, the lander could also manufacture propellant using systems that had been tested on previous missions. Alternatively, if local production is deemed impractical, the ascent vehicle could carry its own supply of storable liquid propellant.

The ascent vehicle for the Medium Lift mission strongly resembles plans that have been drawn for direct ascent missions. Instead of the slender rocket currently proposed for Mars ascent, we have a squat, bulky vehicle that is much wider and shorter than a conventional rocket.

The vehicle is capped by a domelike aeroshell that will protect the vehicle during atmospheric ascent and also serve as its heatshield for Earth return. Clustered beneath this canopy is a collection of fuel tanks, engines, avionics and space for the samples. Itís essentially as wide as it is tall, but itís still not as bulky as a direct ascent vehicle.

Once the vehicle is loaded and fuelled, it lifts off and reaches Mars orbit. Its propulsive tasks are complete, and the vehicle may shed the engines and fuel tanks that took it to orbit. Small thrusters lurk beneath the aeroshell for minor attitude corrections.

The vehicle in orbit is reasonably large, able to stabilize its attitude, and has a large docking receptacle at its rear. Furthermore, it has a radar beacon to advertise its position.

This vehicle is a much easier target for another spacecraft than the passive capsules proposed by NASAís original scheme. The vehicle can remain in Mars orbit for an extended period, and its small thrusters could occasionally be used to prevent orbital decay.

It will be recovered in orbit by another vehicle, but this would not need to be as complex as the spacecraft proposed by the French for the current mission plan.

A simpler alternative is already being prepared: the Automated Transfer Vehicle under development for the International Space Station.

The ATV is like a super version of the Progress spacecraft operated by Russia. Launched by Ariane 5, it carries supplies to the International Space Station, boosts its orbit like a tugboat, and finally serves as a trash receptacle before it is sent plunging into the atmosphere. Itís large, robust, capable of executing velocity changes, and designed for rendezvous and docking.

Clearly, a current ATV could not be taken off the production line and sent directly to Mars, but the modifications needed would be much less than designing a totally new Mars transfer vehicle.

The ATV could be launched to Mars using the same launcher as the lander, either an augmented Ariane 5 or a large future booster. A transfer stage attached in Earth orbit could again be required.

The Mars ATV will dock with the rear of the Mars ascent vehicle, forming a rigid connection that will allow it to push it out of orbit. Telemetry and power connections will also be made.

The domelike ascent vehicle attached to the front of the cylindrical ATV would resemble an Apollo command module attached to its service module. The resemblance is more than superficial, as the ATV takes on the role of returning the most important round-trip module to Earth.

After a long cruise phase, the ATV would detach itself from the ascent vehicle as it approached Earth. It would then fire its thrusters to move away from the ascent vehicle, and place itself on either a heliocentric trajectory or a path that would cause it to destructively re-enter over the ocean.

The ascent vehicle would make its final course corrections using its on-board thrusters, heading for a landing in a location such as Woomera in Australia or Utah.

Its aeroshell may shed an outer covering that protected the vehicle during atmospheric ascent, and finally expose its heatshield. After atmospheric entry, parachutes would carry the vehicle to the ground.

Space exploration is filled with missions that look great on paper, but are plagued with difficulties that only appear after closer study. Carrying out this mission architecture would not be as easy as this overview could suggest, but with Mars Sample Return, there is probably no such thing as an easy mission plan.

The idea for a Medium Lift approach is worth considering, along with other plans currently circulating. How long will it be before one of them finally flies?

Morris Jones is a Sydney, Australia-based consultant and journalist. He can be reached at morrisjonesNOSPAMhotmail.com. Replace NOSPAM with @ to send email.

Concepts And Approaches For Mars Exploration

MARSDAILY.COM


Be Kind to Mars Explorers
by Morris Jones
Sydney - January 12, 2000 - The failure of Mars Polar Lander could not have come at a worse time. NASA is plagued by funding difficulties and the tensions over the survival of individual programs that inevitably results from this.
Thanks for being here;
We need your help. The SpaceDaily news network continues to grow but revenues have never been harder to maintain.

With the rise of Ad Blockers, and Facebook - our traditional revenue sources via quality network advertising continues to decline. And unlike so many other news sites, we don't have a paywall - with those annoying usernames and passwords.

Our news coverage takes time and effort to publish 365 days a year.

If you find our news sites informative and useful then please consider becoming a regular supporter or for now make a one off contribution.


SpaceDaily Contributor
$5 Billed Once

credit card or paypal

SpaceDaily Monthly Supporter
$5 Billed Monthly

paypal only