The Silence Of Mars
Go to Part One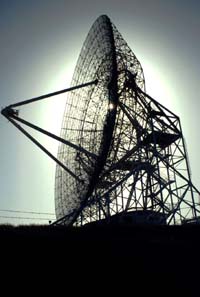 A Confused Martian Could Cause More Woes
by Dawn Levy
Scientists may no longer know the exact configuration of the lander, since NASA has sent many commands to exercise different aspects after losing contact with the spacecraft.

Also, it is possible that the lander may have been "asleep" when some of the commands were sent. If this were the case, it would be responsive only after it completed a complex "waking-up" process.

To help them face these considerable technical challenges, the researchers have a powerful tool on their side: the exquisitely sensitive 150-foot-diameter Dish, which SRI International operates and maintains and the U.S. government owns.

From a grassy knoll on the Stanford campus, the parabolic reflector of this radio telescope concentrates electromagnetic waves (radio waves) into an aluminum collecting horn built by SRI's Mike Cousins that Linscott calls "the jewel in the crown."

From there, the signal is fed into a transducer, says Cousins, site manager of the Dish. A transducer changes one type of energy into another. Unlike the pressure waves of audio, electromagnetic waves from space need to be manipulated by transducers and fed into computers before scientists can "see" or "hear" the data.

Using sophisticated software, Linscott and colleagues search among the weak signals for narrow, single tones. "Because of the processing that's involved in trying to extract them out of the background noise, it's not like we put headphones on and hook in like the now-famous image of [Jodie] Foster's search in the movie [Contact]," Linscott says.

"We don't have headphones. What we have are the computers that record the signals from the sky, and more computers to try and analyze those."

Even if scientists are able to eventually detect a signal from the lander, will that mean the spacecraft could still serve a useful purpose?

"If the lander is there and it's talking to us, that tells us a tremendous amount of information," Callas says. "It tells us it got to the surface of Mars safely or in a reasonably safe configuration and that it's generating power, that its computers are operating, that it can hear us, and that it can use at least part of its UHF system. That would go a long way to understanding what might have gone wrong to put us where we are today."

A functional UHF system might even allow scientists a means of reconfiguring the lander and recovering the mission -- a possibility that Callas admits is "extremely optimistic."

It will take some time to find out the mission's fate. While strong signals can be displayed in real time as spectra when they arrive, weak signals require lengthier processing. Because of the weakness of the signal, it takes "a fair amount of sophistication in the processing of this data using computer software to try to extract the signal," Callas says.

"The human eye is an additional aid to the processing because we can make some displays on the computer screen. By looking at them we can recognize patterns a lot more readily than a computer algorithm can."

Support for signal processing came in part from the Bosack Foundation, established by Stanford alumni Leonard Bosack and Sandy Lerner, founders of Cisco Systems. Mars mission support comes from JPL. Lockheed Martin Astronautics Inc. of Denver is the agency's industrial partner for development and operation of the spacecraft.

Stanford graduate students who helped develop the signal-processing techniques used include Mitch Oslick, who earned his doctorate and now works for Phillips Electronics, and Neza Maslakovic, who will finish her doctoral work this summer.





Thanks for being here;
We need your help. The SpaceDaily news network continues to grow but revenues have never been harder to maintain.

With the rise of Ad Blockers, and Facebook - our traditional revenue sources via quality network advertising continues to decline. And unlike so many other news sites, we don't have a paywall - with those annoying usernames and passwords.

Our news coverage takes time and effort to publish 365 days a year.

If you find our news sites informative and useful then please consider becoming a regular supporter or for now make a one off contribution.


SpaceDaily Contributor
$5 Billed Once

credit card or paypal

SpaceDaily Monthly Supporter
$5 Billed Monthly

paypal only