Spirit is now less than 1,600 meters away from the base of the "Columbia Hills" after three long sols of driving. Its odometer now reads currently reads over 1,660 meters (1.03 miles) and counting.

Sol 118 was a record-breaking driving sol for Spirit. The Gusev Crater rover moved 92.4 meters (303 feet) across the surface in one sol, breaking its previous record of around 90 meters (295 feet). The Opportunity rover still has Spirit beat with a one-sol driving record of 140 meters (459.3 feet).

Sol 119 proved to be a more difficult sol for Spirit. An uplink configuration error prevented the sequence load from successfully getting on board the rover. Rover controllers took advantage of the down day by deleting afternoon communication sessions and enabling the rover to charge its battery during a long afternoon nap.

It was back to business as usual on sol 120. Before embarking on its drive, Spirit imaged a rock called "Tulula" with the panoramic camera. The rover then successfully executed a blind drive before using the autonomous navigation system to continue into uncharted territory. After reaching the time-of-day driving limit, Spirit turned and performed penultimate (next to last stop) imaging.

The next move would have taken the rover 85 centimeters (33.5 inches) to its ultimate stopping point, but did not execute because Spirit was facing a small sand ridge that was perceived as a hazard.

Without a penultimate/ultimate image pair, rover controllers could not be sure that the area underneath the rover was clear of hazards for instrument arm deployment. As a result, Sol 121 will be another driving sol that controllers hope will place Spirit in a suitable location to use the instruments on its instrument deployment device.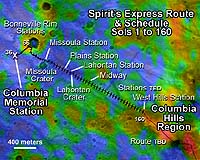 Spirit's Express Route to 'Columbia Hills'
This map illustrates the Mars Exploration Rover Spirit's position as of sol 112 (April 26, 2004), near the crater called "Missoula." Like a train on a tight schedule, Spirit will make regular stops along the way to its ultimate destination, the "Columbia Hills."
At each stop, or "station," the rover will briefly analyze the area's rocks and soils. Each tick mark on the rover's route represents one sol's worth of travel, or about 60 to 70 meters (200 to 230 feet). Rover planners estimate that Spirit will reach the hills around mid-June. Presently, the rover is stopped at a site called "Plains Station."
The color thermal data show how well different surface features hold onto heat. Red indicates warmth; blue indicates coolness. Areas with higher temperatures are more likely to be rocky, as rocks absorb heat. Lower temperatures denote small particles and fewer rocks. During its traverse, Spirit will document the causes of these temperature variations.
The map comprises data from the camera on NASA's Mars Global Surveyor orbiter and the thermal emission imaging system on NASA's Mars Odyssey orbiter.