Opportunity, the second of two roving US Mars probes, transmitted its first images of the Martian surface Sunday as NASA scientists tried to resurrect its crippled twin.

Opportunity touched down at 9:05 pm Saturday (0505 GMT) in an area of the planet known as the Meridiani Planum, the US space agency said.

"It does look like we landed about 24 kilometers downrange from the center of the target. We are still a little bit uncertain on that," said Richard Cook, deputy manager for the Mars Exploration Rover project.

"I think we're going to have a good place for science."

The Meridium Planum is a zone of grey hematite, an iron oxide. Scientists plan to use the robot's instruments to determine whether the grey hematite layer comes from sediments of a former ocean, from volcanic deposits altered by hot water or from other ancient environmental conditions.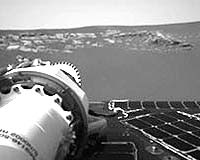 Status Report: MER-B
NASA's second Mars Exploration Rover successfully sent signals to Earth during its bouncy landing and after it came to rest on one of the three side petals of its four-sided lander.

Mission engineers at NASA's Jet Propulsion Laboratory, Pasadena, Calif., received the first signal from Opportunity on the ground at 9:05 p.m. Pacific Standard Time Saturday via the NASA Deep Space Network, which was listening with antennas in California and Australia.

"We're on Mars, everybody!" JPL's Rob Manning, manager for development of the landing system, announced to the cheering flight team.

NASA Administrator Sean O'Keefe said at a subsequent press briefing, "This was a tremendous testament to how NASA, when really focused on an objective, can put every ounce of effort, energy, emotion and talent to an important task. This team is the best in the world, no doubt about it."

Opportunity landed in a region called Meridiani Planum, halfway around the planet from the Gusev Crater site where its twin rover, Spirit, landed three weeks ago. Earlier today, mission managers reported progress in understanding and dealing with communications and computer problems on Spirit.

"In the last 48 hours, we've been on a roller coaster," said Dr. Ed Weiler, NASA associate administrator for space science. "We resurrected one rover and saw the birth of another."

JPL's Pete Theisinger, project manager for the rovers, said, "We are two for two. Here we are tonight with Spirit on a path to recovery and with Opportunity on Mars."

By initial estimates, Opportunity landed about 24 kilometers (15 miles) down range from the center of the target landing area. That is well within an outcropping of a mineral called gray hematite, which usually forms in the presence of water. "We're going to have a good place to do science," said JPL's Richard Cook, deputy project manager for the rovers.

Once it pushed itself upright by opening the petals of the lander, Opportunity was expected to be facing east.

The main task for both rovers in coming months is to explore the areas around their landing sites for evidence in rocks and soils about whether those areas ever had environments that were watery and possibly suitable for sustaining life.

Former vice president Al Gore and California Governor Arnold Schwarzenegger joined NASA staff at the Jet Propulsion Laboratory here in cheers at the successful landing.

National Aeronautics and Space Administration chief Sean O'Keefe opened a bottle of champagne in celebration.

"What a night!" he exclaimed.

Meanwhile, flight controllers worked to restore Spirit, the first of the two rovers sent to Mars, to full operation.

Spirit, which functioned flawlessly after its January 3 landing in Gusev Crater on the other side of the planet, has been plagued with communications problems since Wednesday.

As Opportunity raced toward Mars, Charles Elachi, director of the Jet Propulsion Laboratory, said he was sure Spirit could be restored to full function.

"This is not unusual what happened," he said. "We have done that on Galileo. I am completely confident without any hesitation that I think we will get that rover back to full operation."

Galileo is the US space probe that explored the planet Jupiter.

But NASA was being extremely cautious.

Analysis of Spirit's descent through the Mars atmosphere prior to the Gusev landing led to a decision to open Opportunity's parachute at a higher altitude than initially planned, said Wayne Lee, chief engineer for development of the rover's descent and landing systems.

The two golf-cart-sized solar-powered rovers were to study the dusty Martian surface's geological characteristics for three months to determine whether the red planet ever had conditions conducive to life.

Until its communications problems began Wednesday, Spirit had been beaming back spectacular color photographs of the Martian landscape.

NASA officials worried that the problems could take weeks to sort out, and may never be entirely resolved.

"The chances it will be perfect again are not good," Mars Exploration Rover project manager Pete Theisinger said. "We have got a long way to go with the patient in intensive care.

"We made good progress overnight and Rover has been upgraded from critical to serious. We don't know what's broken and the consequences.

"The flight software is not working properly. We should expect that we will not be restoring functionality to Spirit for a significant amount of time -- many days, perhaps a couple of weeks -- even under the very best of circumstances."

Spirit stopped normal transmissions Wednesday, NASA said, but a signal was received Friday from the solar-powered rover by one of the giant antennas of the international Deep Space Network near Madrid.

NASA engineers plan to ask Spirit to provide further information about its condition in an effort to work out why the rover fell silent.

The breakdown came just as the rover was to begin searching for signs of past life-sustaining water on Mars.

Theories that Mars was once awash with water got dramatic confirmation from data relayed to Earth by Europe's unmanned spacecraft, Mars Express.

Initial results from Mars Express sketched an image of a planet whose surface was once sculpted by seas and glaciers and confirmed indications that its South Pole is capped by frozen water, the European Space Agency said.

The 820-million-dollar Spirit and Opportunity project is the most ambitious ever sent to Mars.

All rights reserved. © 2004 Agence France-Presse. Sections of the information displayed on this page (dispatches, photographs, logos) are protected by intellectual property rights owned by Agence France-Presse. As a consequence, you may not copy, reproduce, modify, transmit, publish, display or in any way commercially exploit any of the content of this section without the prior written consent of Agence France-Presse.