In short, this year's LPSC papers on Mars make it abundantly clear that a new paradigm has become extremely important in understanding the strange and puzzling history of Mars: the idea that the planet's geology has been radically affected by the fact that -- unlike Earth -- it's cold enough for great amounts of carbon dioxide to get into its subsurface.

It now seems likely that many Martian surface features that have previously explained as being due to liquid water may really be due to CO2 -- indeed, it's conceivable, though unlikely, that all of Mars' "water-carved" features are really due to it.

While Nick Hoffmann has probably been the most important figure in advocating this new picture of Mars, he's not the only one.

Others -- including Jeffrey Kargel, Kenneth Tanaka and D.S. Musselwhite -- have also become strong advocates of it at about the same time.

But the new papers also make it clear that as of now, where Mars is concerned, we're still in the position of the six blind men trying to understand the elephant -- we still don't have enough pieces of the puzzle, to get a clear understanding of Mars' overall history.

MGS and the Mars orbiters that will follow it will continue to map more of Mars' surface at very high resolution -- the 2005 U.S. "Mars Reconnaissance Orbiter", in fact, is scheduled to photograph large portions of Mars with a resolution of only 30 cm, and spew the photos back to Earth at rates of up to 4 million bits per second.

But it seems very likely now that pictures of Mars' geological features alone won't be enough to solve its puzzle.

In particular, we need one very important piece of the puzzle: analyses of Mars' surface minerals, to see whether they are indeed the types formed by interactions with large amounts of surface liquid water, or whether they indicate instead that the planet's surface has always been dry and perhaps has reacted chemically with CO2 instead.

Our mineralogical data on Mars, unfortunately, is still rudimentary -- the thermal-IR mineral maps from MGS have been limited in the information they have provided us, and the three successful Mars landers so far have just measured the percentages of different elements in the surface, which doesn't tell us much about the actual chemical compounds those elements have formed.

As I noted earlier, perhaps the most unfortunate aspect of the loss of Mars Polar Lander is that its TEGA instrument would have given us a surprisingly detailed mineralogical analysis of Mars' soil, to look for just such water-formed minerals -- and since Mars' soil has been pretty evenly mixed all over the planet by dust storms, this could have given us an idea of how wet the entire planet's surface has been during its history.

The upcoming Mars orbiters will also try to make much better mineralogical maps of Mars than MGS has done.

The just-launched Mars Odyssey has a multispectral thermal-IR camera which has less spectral resolution than MGS, but far sharper resolution than MGS' fuzzy 2-km resolution mineral maps -- if carbonates exist on Mars' surface only in small outcrops, it may be able to find them.

The 2003 European Mars Express will give us our first map of Mars in shorter-wavelength "near-IR" -- which can detect a different set of minerals -- and the 2005 U.S. orbiter will follow up by making near-IR maps with a resolution of only 50 meters.

But they may be less useful than hoped.

The disappointing mineralogical blandness of Mars in MGS' mineral maps may be explained by the fact, reported at the Conference by T.G. Graff, that his studies show that the long-wavelength "thermal IR" radiation it measures penetrates a thin film of dust on rocks less effectively than had been thought -- and virtually all of Mars' rocks are covered by such a thin layer of uniformly mixed windblown dust (as confirmed by A.T. Basilevsky's new analysis of the findings from Mars Pathfinder).

If so, then the shorter-wavelength near-IR radiation to be measured by future orbiting spectrometers will have even more trouble penetrating that dust, and be less informative.

It's starting to look as though the only way to make good chemical analyses of different places on Mars may be to send multiple landers down to scrub the dust layer off local rocks and analyze them directly.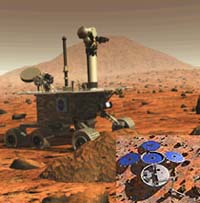 NASA's "Big Dog" and the UK's Beagle 2 will both spend time sniffing and scratching the surface of Mars in 2003

The two Mars rovers the U.S. hopes to land in 2003 do carry an "abrasion tool" to do just that, after which their three chemical analysis tools should be able to make much better measurements than we've have up to now.

The little stationary "Beagle 2" lander, built mostly by Britain, that the European Space Agency hopes to land at the same time will also do so -- and it also carries a mass spectrometer to analyze in detail the gases given off by ground-up rock samples roasted in miniature ovens, thus carrying out the measurements hoped for from Mars Polar Lander.

Beagle's officially selected landing site -- in the smooth sediment plain of the Isidis Basin -- was the subject of several Conference papers.

The Isidis Plain is speckled with many strange-looking little cones -- usually less than a kilometer wide -- that look like miniature volcanoes, but none of them shows any sign of having spit out lava or ash.

They look -- as Ron Greeley and John C. Bridges pointed out -- very much like "pseudocraters" seen on Earth where hot subsurface lava flows have touched local beds of ground ice and set off surface eruptions of steam.

But --at least on the surface -- there are no visible signs of such flows underneath Isidis' surface sediment layer, and Nick Hoffmann and G.G. Ori proposed an alternative explanation:

We still aren't sure where the deep sediment layer in Isidis came from -- it may have been water-deposited or gradually accumulated from windblown dust and sand.

But another possibility is that the Basin was flooded by part of the same flow of cold "mud" that may have filled up Mars' other great northern lowlands -- in which case the "pseudocraters" may simply be places where a lot of subsurface liquid water was squeezed out by the weight of the in surging mud flow.

Alternatively, large amounts of subsurface carbon dioxide may have been stored there beneath a surface shell of permafrost that was cracked by the inflowing mud or melted through by mild local geothermal warmth, allowing the CO2 to erupt violently upwards.

Beagle's analysis of the minerals in Isidis' soil should be able to tell whether its minerals have been exposed to large amounts of liquid water or not during their ancient past.

Beagle, however, is only one lander -- it may be that such mineralogical analyses will end up being one of the most important functions of the six or more little "Mars Scout" landers that NASA plans to send to Mars in 2007 to determine good landing areas for later, more sophisticated craft and sample-return missions.

NASA's first scientific forum to discuss the design for the 2007 Mars Scouts -- which will be picked out of competitive proposals by different scientific teams, like the spacecraft of the Discovery Solar System exploration program -- will be held on May 22.

And one instrument with a very good chance of riding along on some of them is the "Mars Organics Detector" -- originally scheduled to ride along on the now-cancelled 2003 Mars sample-return lander -- which roasts rock samples and sniffs for amino acids and some other organic compounds with a sensitivity of as little as one part per trillion, and which has now been modified so that it can also carry out the mineral analyses planned for Mars Polar Lander.

The delay in its likely launch has allowed development of an improved version of this instrument, described at the LPSC, which can analyze any Martian amino acids it does detect to see if their molecules all have the same "chirality" -- the same mirror-image shape -- which in itself would be near-certain proof that they are the chemical fossils of Martian life, whereas an even mixture of both "handed" versions of such a compound would be proof that it was produced by nonliving processes.

Another instrument to be carried on future Mars orbiters may also be able to help settle the question of the extent to which near-surface liquid water has indeed played an important role in Martian history: a long-wavelength radar sounder capable of piercing as much as 5 kilometers beneath the surface to profile the subsurface layers of sediment and rock it encounters.

The 2003 European Mars Express orbiter will carry the first such instrument -- and since we really don't know much yet about the depth to which Mars' surface composition will actually allow it to look, the 2005 U.S. orbiter will probably carry a different design of sounder (both of them provided by Italy) to gauge whether it's more better.

These instruments can't detect subsurface deposits of liquid or frozen CO2 -- but they should be very good at mapping both water ice and liquid water deposits.

They should, for instance, definitely be able to settle whether or not Mars' small "slope gullies" really are due to recent eruptions of near-surface, extremely briny liquid water.

Several other useful instruments for near-future Mars exploration were also described at the Conference.

K.K. Williams reported tests confirming that another type of radar instrument which the U.S. and Italy are considering flying on a 2009 Mars orbiter -- a higher-frequency synthetic-aperture radar like that on the Magellan Venus probe -- will indeed be able to punch through up to three meters of surface dust and sand on Mars to send back photographic maps of the planet's original rocky surface features, most of which have up to now been frustratingly buried beneath a mantle of windblown sediment which makes Mars even harder to properly understand.



By dating surface features we will be able to better understanding the primordial past of Mars

Timothy Swindle reported on the possibility of "age-dating" Mars' surface rocks to determine how long it's been since they first solidified out of molten lava or soft sediment.

This is extremely important geologically, given our huge uncertainties as to just how old different parts of Mars' surface are -- for instance, serious estimates of the point at which the Hesperian Era ended and the current Amazonian Era began vary from 3.5 to only 1.9 billion years ago! -- but it also takes very detailed chemical analyses which have been thought up to now to be impossible to do without actually returning Mars samples to Earth.

However, Swindle reports that unmanned Mars landers could use in-situ instruments do do age-dating at least accurate enough to vastly improve our estimates of the age of different Martian surface features -- and, in fact, Beagle 2 will make the first tentative attempt to age-date Martian rocks in-situ by measuring both the amount of radioactive potassium-40 they contain, and the amount of trapped argon-40 gas it may have decayed into inside them since they solidified. N. Abbott reported on the use of another dating technique -- "luminescence dating" -- to accurately measure the last time at which Martian sediment layers were exposed to sunlight, which may be crucial in understanding the timing with which sediments (and mixed ice-sediment polar cap layers) were laid down on Mars by its climate changes.

Aaron Zent reported on a tiny American sensor also scheduled for Beagle, which will try to determine the amount and type of oxidant chemicals thought to be formed in Mars' upper soil by solar UV light, and which (judging from the Viking landers' studies) may destroy all organic compounds in Mars' upper surface -- although, as Zent also reported, the tiny traces of organics in some of the Mars meteorites found oin Earth indicate that the oxidants (if they do exist) probably don't diffuse more than a few meters below the surface.

And R.C. Wiens and S.K. Sharma reported on a remarkable instrument which may soon be carried on Mars rovers: a miniature laser cannon which uses only a few watts of power, but which can vaporize tiny patches off rocks up to 10 meters away, take spectra of the flash's glow to measure the elements in the rock, and clean the surface dust film off the rock so that the next burst can properly analyze its true material -- as well as obtaining "Raman" spectra of even more distant rocks to analyze the minerals in them.